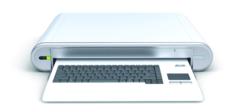 Birmingham, West Midlands (PRWEB UK) 6 November 2012
With the legal requirement to keep keyboards clean (HTM 01-05 section 6.66) in Dentistry, as well as common knowledge that quality cleaning in all healthcare environments helps reduce the spread of infection, healthcare cleaning is not something to be taken lightly.
Medical keyboards are used all over the world to help reduce and eliminate Health Care Associated Infections (HCAI's) and are cleaned through wiping, spraying/rinsing or sterilising.
Wiping keyboards is quick and easy. With the right keyboard, this method has been proven to be 99.99% effective and is by far the quickest cleaning method available on the market.
Keyboards to use: Cleankeys or Medigenic
Spraying and rinsing keyboards can take a little longer than other methods but studies found this to be 99.99% effective. Spraying and rinsing keyboards usually incorporates anti-microbial protection in the keyboard itself which also aids in the fight against HCAI's.
Keyboards to use: Accumed or Unotron
Finally, sterilising keyboards is also 99.99% effective in killing all known micro-organisms and promoting full cleanliness. Sterilisation is done by a machine rather than a person and so cost-effectiveness increases with these keyboards.
Keyboard to use: Vioguard
Keyboard Specialists Ltd (KBS) decided to investigate whether or not there exists a best method of cleaning.
The aforementioned methods have many studies associated with them acknowledging their effectiveness; proved in itself by the mere fact that these are the chosen methods in millions of healthcare establishments all over the world. With no 'best method' answer as yet, it was explained that every cleaner, user, department and organisation has their own preference.
The answer to which method is best really is down to individual use. If for example, you are looking for a keyboard to be instantly cleaned between patients, a wipe-able keyboard would be the obvious answer. If you're looking for a low cost keyboard and have the man-hours to spend on cleaning, a spray and rinse keyboard could work very well. Alternatively, if you prefer the safety of automated UV sterilisation and a reduced chance of human-error, then a sterilising keyboard could be the best option.
So does it really just come down to preference? In a word, no. The reason behind medical IT equipment is to reduce/eliminate infections and give the people we care about, as safe an experience as possible within a healthcare environment. With all the best intentions in the world, people must use and clean the equipment properly to see the 99.99% rate. It is no good buying a spray and rinse keyboard and then just wiping it once and claiming cleanliness. The entire process and cost-effectiveness from start to finish should be considered:
Cost up front – people see a £299 price tag on a keyboard and run a proverbial mile. It is important to stop and think of the reasoning behind this cost. The reality is that for £299 you can buy a Cleankeys keyboard with built-in touch pad that offers full cleaning in less than 10 seconds – a cost/time saving over other medical keyboards. The built-in touch pad means there is no need for a separate medical mouse – again a cost saving. A three year warranty (over most others who offer a one year warranty) and on top of all this, it is both wired and wireless so you can use it however you like. This is just one example of a cost-effective keyboard – it is not for everyone as variety is the spice of life. However, it is something to take into careful consideration when ordering your next medical keyboard.
For full details on a range of medical keyboards, please contact KBS – leading supplier of healthcare computer peripherals, in particular, keyboards that meet healthcare requirements.