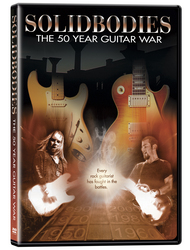 Solidbodies, the 50 Year Guitar War
Saltillo, MS (PRWEB) October 14, 2008
The company producing "Solidbodies, the 50 Year Guitar War", a documentary about rock music's two most popular electric guitars, has signed with Solid Entertainment for global broadcast representation.
Available now on DVD, the documentary combines interviews and performance segments to chronicle how the Fender Stratocaster and the Gibson Les Paul have competed over the past half-century to be the dominant instrument in popular music. The program appeals to rock music fans, guitarists, vintage guitar collectors, and even guitar-related video gamers.
Solid Entertainment will be showcasing "Solidbodies, the 50 Year Guitar War" this week in Cannes, France during MIPCOM which is considered to be the largest global market conference for those producing and purchasing entertainment programming.
A trailer of the documentary can be viewed at the film's website, http://www.SolidbodiesTheMovie.com.
"...captures the up-and-down history, the rivalry, the back-and-forth tug of two of the most powerful images in modern music," -- The Boston Globe
"...dissects the evolution of both instruments since the late '50s, providing an insightful look at how both guitars came to prominence," -- The Toledo Blade
Encino, CA-based Solid Entertainment represents more than 300 documentary titles created by independent producers as well as network programs created for Discovery Channel, HBO, National Geographic Channel, and the Travel Channel.
"Solidbodies, the 50 Year Guitar War" was written and directed by Guy Hornbuckle. The director is an award-winning broadcast journalist whose company Lightning Lab Productions, LLC produced the documentary.
Media Contact:
Lee Walls
Lightning Lab Productions, LLC
(662) 869-2447
# # #