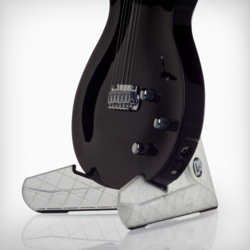 Guitars are objects of beauty and the IceStand™ does them justice.
Thousand Oaks, CA (PRWEB) March 29, 2013
D&A Guitar Gear announces the debut of IceStand™ - a beautifully designed professional portable stand that sets the instrument in the limelight - now available for pre-orders on heydna.com.
The IceStand™ carries all the attributes of D&A's flagship product, the Gigstand™, with clear material that unveils its structure. CEO and lead designer Ravi Sawhney explains his design choice: "We've been experimenting with colors and approaches to our stands that would make them even more contemporary and visually exciting. Ultimately, we landed on clear, which highlights every guitar and become almost ghost-like in its ability to suspend the guitar in air. Guitars are objects of beauty and the IceStand™ does them justice!"
With its small size, collapsible but durable construction, and weighing little more than the average lead cable, D&A prevents damage to valuable instruments while saving artists' time and precious case space. Because of the translucent material used, the stand has nice visual contrast with the solid body of the instrument, highlighting the guitar and adding a touch of magic.
The design team at RKS worked on the D&A IceStand™ to add the perfect harmony in every venue, so artists can just jam without wasting time or risking damage to their beloved instruments. IceStand™ cradles instruments securely thanks to a wide three-point base and non-slip materials at the points of contact with the guitar and the stage. It fits easily in virtually all guitar cases, and its rounded non-metallic construction ensures it won't scrape guitar finishes. The universal design with minimalist elegance suits all artists and holds most electric guitars and basses. Designed for rockin' on the road but perfect when off, it opens in seconds to provide easy access to guitars during rehearsal or that big gig. Then the IceStand™ can be collapsed in two quick steps and even fit in the back pocket of your jeans!
IceStand™ is a variation of the D&A Gigstand™ and, like its sister product, it comes in two versions: Electric and Acoustic. The Icestand™ Acoustic weighs 1.2 lb with a 14.8'' x 7.2'' x 2.2'' format (folded) while the Electric is 0.9 lb at 13.4" x 6.7" x 1.7".
Media contact:
Andrew Carbone
andrew (at) rksdesign (dot) com
+1 805 370 1200
ABOUT D&A Guitar Gear
The D&A Guitar Gear line is designed and sold directly to guitar players in the US while providing smart, user-friendly, high quality design solutions at unbelievable prices. D&A is currently building its network of international distributors to make the products available to musicians all over the world. D&A Guitar Gear is a brainchild of RKS, a research, strategy and design firm. Read more and shop for gear at http://www.heydna.com.
About RKS Design, Inc.
RKS is a strategic design consultancy delivering human-focused solutions with global impact.
Founded in 1980, RKS utilizes design as a strategic tool advancing clients' ability to focus on people's needs and aspirations while creating sustainable business results and benefits
to society. Working domestically and globally and having won over 150 major design awards,
RKS credits Maslow and Campbell's work as the foundation for its systematic and pragmatic
set of frameworks, setting the stage for the creation of experiences that motivate and reward audiences. Read more at http://www.rksdesign.com.