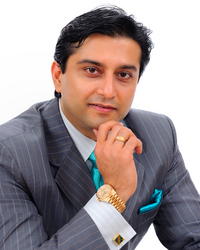 "Its my passion to help people see"- Dr.Gulani
Jacksonville, FL (PRWEB) November 22, 2009
Dr. Arun C. Gulani of Gulani Vision Institute has been selected by Goldline Research as one of the leading Laser Eye Surgeons of the United States for 2009. The list of leading Laser Eye Surgeons of the United States is scheduled to be published in the November 30th issue of Forbes Magazine.
"I am honored by this recognition, indebted to my patients and encouraged to continue my passion to help people see," said Dr.Gulani.
"There are more than ten thousand laser eye surgeons in the United States. The practices that we selected provide outstanding patient service that exceeds the industry standard," said Victoria Coryelle, Analyst, Goldline Research. "We believe that these practices are setting the benchmarks for patient service for the industry as a whole."
About Dr. Arun C. Gulani :
World renowned LASIK surgeon, Dr. Arun C. Gulani is an award-winning inventor, master surgeon and technology leader with an international clientele. Known as the Doctor's Doctor, he is widely published and teaches http://www.gulanivision.com/testimonials/category/lasik-asa-success-stories-8.html LASIK surgeons globally. Former Chief of Cornea and LASIK surgery and Assistant Professor at the University of Florida, Dr. Gulani founded the internationally famous Gulani Vision Institute specializing in LASIK in Jacksonville, Florida. Raising LASIK surgery to an ART, he passionately pursues vision beyond 20/20 with his comprehensive ability to perform Advanced LASIK, complex LASIK as well correct LASIK complications.
Truly epitomizing the concept of "High Tech" & "High Touch", Dr. Gulani's personal touch for his patients is as famous as his surgical outcomes. "You only have two eyes," said Tim Priano of Glamour Squads for Celebrities in Los Angeles and New York. "I've worn glasses most of my life, and my goal was to get LASIK surgery done by the best. Dr. Gulani doesn't just practice medicine. He teaches it."
For more information about Dr. Gulani, please visit http://www.gulanivision.com
About Goldline Research
Goldline Research is a leading marketing and information services company. Goldline Research's mission is to empower consumer choice by identifying leading professional services providers. Goldline Research evaluates professional services firms and providers throughout the United States using a rigorous, proprietary research methodology. The company has helped thousands of consumers find high quality service providers. Goldline Research was recently named to the 2009 Inc. 5000 list of the fastest growing privately-held companies. Founded in 2004, Goldline Research is headquartered in Novato, California.
###