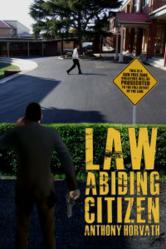 Holmen, WI (PRWEB) March 01, 2013
As the gun control debate grows heated across the United State, Bard and Book Publishing has released the latest work of author Anthony Horvath, Law Abiding Citizen.
Law Abiding Citizen is a modern day story that asks, "What happens to a town when a man with a gun refuses to stop another man with a gun from killing people, just because it was against the law to bring the gun on school property?"
Sheldon Knapp was caught in a photograph calling 9-11 with a gun in his hand, while a vicious gunman enters the school behind him. Initially regarded as a hero, the accolades turn into contempt, as people begin saying that he could have, and should have, done more.
Sheldon Knapp's defense: He is a law abiding citizen.
"This story is not actually inspired by recent events. It has been rattling around in my head for a long time. I think it highlights some of the hypocrisy within and without the media whenever there is a mass shooting. Hopefully, the format of the story suggests who the real target of the story is (if there even is one)," the author adds.
Law Abiding Citizen is available on Smashwords and is also available for the Kindle on Amazon.com.