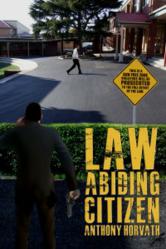 Holmen, WI (PRWEB) March 27, 2013
Gun control continues to dominate media headlines, and even with the media discussions, the topic is more often presented with a skewed view. Bard and Book Publishing author, Anthony Horvath, has sought to address this hypocrisy in his latest work, Law Abiding Citizen.
Law Abiding Citizen is a modern day story that asks, "What happens to a town when a man with a gun refuses to stop another man with a gun from killing people, just because it was against the law to bring the gun on school property?"
Sheldon Knapp was caught in a photograph calling 9-11 with a gun in his hand, while a vicious gunman enters the school behind him. Initially regarded as a hero, the accolades turn into contempt, as people begin saying that he could have, and should have, done more.
Sheldon Knapp's defense: He is a law abiding citizen.
Law Abiding Citizen is available on Smashwords and is also available for the Kindle on Amazon.com.