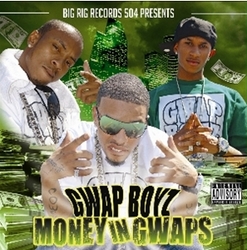 The process of the album was broke up into different categories to satisfy the streets to The White House
Phoenix, AZ (Vocus) June 3, 2009
Sometimes the best way to do business in the music industry is to keep it all in the family and that's what New Orleans natives The Gwap Boyz 504 have done. The three brothers (comprised of producer J-500, and rappers Stickman and Young Skippa) got an bird's eye view of the industry through their father's nightclub "The Big Easy," a venue that played a role in breaking several hometown artists including those from Cash Money Records.
Now, they've taken the lessons they've learned over the years and applied it to their debut album ''Money In Gwaps.''
"The process of the album was broke up into different categories to satisfy the streets to The White House," J-500 says.
The 17-track collection is packed with vibrant club bangers like "Blockstar," "Dope Boy Fresh" and "Freak Low," with any one of the records having the capability to land on radio with relative ease. Out of the lucky 17, the brothers have chosen "Chevy Drippin' Stains" as their leadoff single.
To help with their dominant music industry takeover, The Gwap Boyz 504 has teamed up with 101 Distribution to release ''Money In Gwaps.''
"We heard from different artists in Phoenix, AZ that 101 Distribution was a very reputable and trustworthy company for our business needs," Stickman says. "Making the decision to join 101 was very effortless because of what they offered which was a lot more than what their competitors offered."
For media inquiries, email Reggie Anders at bigrigtrk504(at)aol.com and for more information or to purchase ''Money In Gwaps,'' visit http://www.101d.com .
About 101 Distribution:
101 Distribution (Phoenix, Arizona) began shipping music and video titles to independent and commercial retail stores in November of 2001. Today, 101 Distribution manages the digital, mobile, retail and mail order sales for more than 2,000 touring artists and record labels worldwide. The company operates as the only distributor that offers artists a 100% payout for all net sales royalties in exchange for a flat monthly fee. 101 Distribution catalog titles can be found in 5,500 retail stores throughout the US, Canada and 8 major foreign territories as well as dozens of legal download and subscription sites.
101 Distribution
2375 East Camelback Road, 5th Floor
Phoenix, AZ 85016
http://www.101d.com
602-357-3288
info(at)101d.com
"We Are Music Distribution."
###