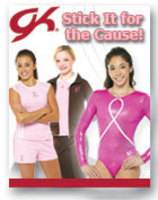 Stick It For The Cause!
Reading, PA (PRWEB) August 5, 2007
GK / Elite Sportswear, L.P. is proud to unveil its 2007-08 line of Gymnastics apparel supporting Breast Cancer Awareness. GK invites the Gymnastics community to "Stick It For The Cause!" and take a stand against Breast Cancer. GK'S 2007-08 line of Breast Cancer Awareness apparel includes In-Stock workout leotards, Special Order Competitive leotards and Team Coordinates apparel in pink and brown, embellished with the Crystal Pink Ribbon Logo in support of The Cause.
GK is a proud sponsor of the National Breast Cancer Foundation, Inc. in the fight against breast cancer. Leotards and Team Apparel designed for 2007 proudly display the pink ribbon logo, in both design construction and through jeweled logos, as a powerful reminder of the importance of The Cause. NBCF saves lives by increasing awareness of breast cancer through education, research and by providing mammograms to those in need.
"We see taking part in the fight against Breast Cancer as a responsibility," noted Kelly McKeown, Marketing Manager at GK / Elite Sportswear. "A majority of gymnasts are young girls who will either face breast cancer in their lifetime, or know people who will face it. By helping educate them about breast cancer, we hope to save more lives." According to the American Cancer Society one in eight women will get breast cancer. With early detection there is a 95 percent survival rate.
GK has supported breast cancer awareness in gymnastics for the past four years through its association with The University of Alabama "Power of Pink" gymnastics meets. "Power of Pink" began in 2004 by Coach Sarah Patterson at the University of Alabama, who decided to use her gymnastics coaching position as a platform to raise awareness in the fight against breast cancer. Each of the three meets averaged over 14,000 fans to support the cause. GK designed special commemorative leotards and clothing for the participants of these events.
Each year GK continues to add more styles to promote this worthy cause. This dazzling and inspiring collection of leotards and apparel is a perfect complement for breast cancer gymnastics events. GK's Breast Cancer Awareness leotards are available online at our website: http://www.gk-elitesportswear.com/breastcancer.html
GK's Team Coordinates, Workout leotards and Competition leotards can be ordered and customized for breast cancer events. Fans will love the apparel and show their support, which will raise money for the cause.
For over 25 years GK has outfitted many of the world's top athletes in apparel featuring superior styling and quality. Based in Reading, Pennsylvania, Elite Sportswear, L.P., the company behind the GK brand, continues its commitment to American-made quality and continuous innovation in designs for gymnastics, figure skating, cheerleading, dance and track and field apparel. See GK online: http://www.gk-elitesportswear.com.
Based in Frisco, Texas, The National Breast Cancer Foundation's mission is to save lives by increasing awareness of breast cancer through education and by providing mammograms for those in need. Please visit NBCF's website to learn more on how you can help and get involved: http://www.nationalbreastcancer.org
For more information about the University of Alabama's "Power of Pink" meets, please contact Roots Woodruff, Media Director at the University of Alabama 205-348-2088 or visit the UA Athletic Department website: rolltide.com.
# # #