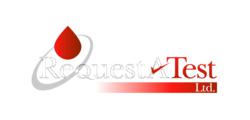 Brecksville, Ohio (PRWEB) March 12, 2013
Request A Test, a leading national provider of direct to consumer lab testing, is now offering the Urea Breath Test for H. Pylori as well as the H. Pylori IgG Antibodies blood test. While both of these tests are used in the detection of the same bacterial infection, one type of test may be more effective than the other depending on the patient's circumstances. Request A Test is continually updating their testing menu with new lab testing options to provide their clients with the largest possible selection. Customers can place an order for any test they need without having to schedule a doctor's appointment or go through an insurance provider. Orders can be placed online or over the phone and many test see results in as little as one business day. With affordable prices and 1000's of lab locations to choose from, getting tested couldn't be more convenient.
Helicobacter Pylori or H. Pylori is a bacterial stomach infection. It's estimated that half the people in the world are infected with H. Pylori but many never get sick from it. Infections with H. Pylori can damage stomach tissue and cause an increase in acid production leading to inflammation and the development of ulcers. If left untreated, H. Pylori can lead the development of some forms of stomach cancer. Symptoms of infection can include abdominal discomfort, weight loss, bloating, loss of appetite, nausea, and vomiting. Because these symptoms are common to other types of gastrointestinal problems, H. Pylori can be difficult to diagnose without specific lab tests.
There are several types of lab tests available for H. Pylori. Which test will be most effective depends on a patient's circumstances. A blood test will screen for IgG antibodies which the body develops in response to infection. This test requires only a simple blood collection. Blood samples can be collected at any lab location and typically have a quick turnaround for results. A blood test is usually ordered when a person has not had a previous H. Pylori infection. Once someone has been diagnosed and treated for H. Pylori, the antibodies may remain in their blood stream. If that person needs to be tested for a subsequent infection, the blood test may no longer be accurate. Lingering antibodies can cause a blood test to come back with a false positive even if there are no bacteria present. In this case, a Urea Breath Test can be more accurate. This test is performed by having the patient breath into a sample bag. They then ingest a solution which will react with bacteria that may be present in the stomach and release carbon dioxide. A second breath collection is done and the two samples are compared to see if a heightened CO2 level indicates the presence of bacteria. Since the breath test reacts directly to the bacteria, it cannot be thrown off by a previous infection. The breath test is ideal for patients who are testing to see if their treatment for H. Pylori was effective in getting rid of the bacteria or as a screening if they have had a previous infection and doubt the accuracy of a blood test. However, some lab locations are unable to perform breath testing and results usually take several days longer to come back. Request A Test offers both the blood and breath tests for H. Pylori. Either test is highly accurate if ordered under the right conditions.
New tests like the H. Pylori Breath Test give Request A Test's clients more options to order the tests which best suit their situation. As new tests and information from the medical community become available, Request A Test will continue to expand their lab test offerings. To order lab testing for H. Pylori or for more information on these or any other tests, go to http://requestatest.com/ or call 1-888-732-2348.
About Request A Test
Request A Test is a national lab testing service operating on the edict that knowledge is power. They are dedicated to providing outstanding customer service, same-day testing, no hidden fees and an informative, easy to use website. Request A Test is partnered with two of the largest certified laboratories in the country to ensure that clients receive affordable and accurate information in a high quality, professional setting.