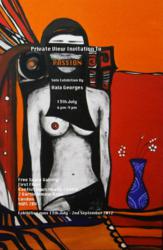 Art is my life, I live only when I create.
London, United Kingdom (PRWEB UK) 11 July 2012
This Friday art connoisseurs will be allowed unprecedented access into the world beyond Britain as Hala Morris Georges unveils her paintings bringing the public into her private world of pain.
Growing up in a conservative community Hala found a way to find passion, using her art as a way to expand the limitations around her from three years of age she found an escape in the creative world, in her own words, "Art is my life, I live only when I create".
Many of us will not understand the daily struggles she faces and the suffering she still endures to this day, however Halas generous nature is giving us all a chance to understand her pain through the art displayed at the Free Space Gallery in London on Friday from 6pm.
Against All Odds
Against all the odds, Hala travelled from her country to pursue her passion with full emotional support from her family, this leap of faith was an incredible act of defiance and not without its consequences.
Her paintings although popular in the UK would not be looked on favourably by some people of Syria as she brings her experiences to life showing us the difficulties Arabic women face.
She hopes that by bringing these events to life she'll raise awareness amongst the British people, helping to bring peace to her home country.
Hala is no novice artist as she has secured a Master of Arts degree and is now furthering her talent with a Ph.D. in Visual Communication Design.
Blood, Sweat and Tears
Her latest painting was created as a terrorist explosion resounded across the streets of her family in Syria, with no word, Hala continued through tears never knowing if her family had survived the blast.
Living alone, she has faced struggles that only we can imagine bringing her art into the public eye, educating us on the suffering experienced every day.
This Friday viewers will be astounded as her collection is unveiled, as Hala wears her heart on her sleeve to bring us the best, and worst of her talent for capturing life under duress. Hala says, "I feel humbled that I am allowed to freely express my emotion through my art when my beloved country is going through so much, every stroke brings a tear to my eye, but it is my way of reaching out to my family and wishing peace to my country ".
To see the collection come to the Free Space Gallery in London Kentish Town Health Centre, 2 Bartholomew Road, London, NW5 2BX at 6pm but be prepared to feel the pain through the freedom of expression Hala Georges has chosen.