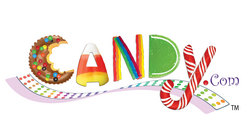 Candy lovers want to be on top of the latest and greatest candy products
Weymouth, MA (PRWEB) October 16, 2009
It's that time of year again when Fall nips the air, pumpkins are picked, scary decorations show up on the front porch and we spend hours planning the perfect Halloween costume. All this in anticipation of that monstrously fun holiday when children scour neighborhoods searching for the most popular sweets of the season.
This year in keeping with the spirit of All Hallows Eve, Candy.com has released the Ultimate Guide to the Yuckiest, Prettiest, Scariest and Most Remembered Halloween Treats in the First Annual Halloween Candy Showcase.
Trick or Treaters visiting the site have over 5000 candy products at their fingertips, so Candy.com created the Halloween Candy Showcase to help customers find just the right candies for the occasion. "Candy lovers want to be on top of the latest and greatest candy products," says Candy.com CEO Greg Balestrieri. "They want to be the first to hand out Giant Spider Spells, Witchy Warts, or Jack-O-Lantern lollipops to the little pirates and princesses that ring the doorbell."
Halloween party candy is also in great demand this year. "If you want your house to be the most popular Halloween hangout on the block it's time to be on the lookout for the latest in this year's ghoulish goodies," says Candy.com co-founder, Joe Melville. "Most people think this is a holiday for kids, but grownups love it too."
For Halloween parties Candy.com encourages families to go beyond dunking for apples and decorate with candies of orange and black. Balestrieri says, "We've arranged everything by color to make ordering easy, so combine orange Rock Candy, black Licorice Zombies and some Candy Corn and you've got a Pretty-Yucky- Scary Combo!"
Imagination goes a long way when creating holiday theme parties. Just like Martha Stewart, the TV queen of party planning you too can come up with new ways to use candy for party favors and styling. She recommends displaying sunny sweets in glass containers and tempting your guests with a Halloween candy buffet table.
At Candy.com you'll find everything from the ever-popular Candy Corn and retro-candy Waxed Fangs, to more current scary items like Hotlix Chocolate-Covered Insects, and Giant Pez Skull pops. If you're looking for the yuckiest candy for your Halloween giveaways Candy.com has Oozing Jelly-Filled Eyeballs and every kind of Gummi candy you can imagine like Gummi Brains or Gummi Fingers.
If those confections are too gruesome for you, there's also an enormous selection of fun and less terrifying candies like Fluffy Stuff Spider Webs and Chocolate Pumpkin Pops. Specialty items like gluten-free candy, kosher candy and the popular Spooktacular Halloween Candy Bouquet gift basket are all available.
"We've got everything you need to create a memorable Halloween for your family and friends," says Balestrieri. "Best of all we've got the best prices and the most well-organized product selection to make party planning a breeze."
About Candy.com - Candy.com is the ultimate online candy store offering unmatched quality and competitive prices for businesses, gift shops, event planners, brides and grooms, or new parents wanting to add a sweet touch to a special celebration. With over 5000 candy products from trusted and well-loved brands such as Jelly Belly, Hershey, Mars, Lindt, Nestle and more, Candy.com is the place to go to find treats to meet all your candy needs.
Candy.com is located in Weymouth, Massachusetts and ships anywhere in the U.S. via UPS. For more information go to http://www.candy.com.
###