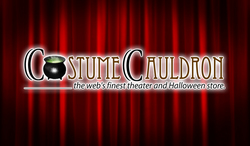 Los Angeles, CA (PRWEB) August 10, 2009
Shopping for Halloween costumes on the go has become possible with the use of high speed mobile communication technologies such as the iPhone 3GS and Blackberry Storm. E-commerce is a booming industry and customers are now able to access all the Halloween costumes and products they need with the touch of a button. Wherever shoppers fine themselves, whether it's on the bus or in the pub, it's no longer necessary to have a computer with an internet connection to shop online for sexy Halloween costumes. Even the Xbox 360 and Playstation 3 make it possible for today's savvy gamer to find all those hard to find kids Halloween costumes and accessories on a break from their favorite video game or movie.
As consumers around the world begin to rely more and more on their mobile devices to communicate with others, organize their lives, and make their purchases, more retailers have in turn optimized their online experience for these devices. Costume Cauldron (http://www.costumecauldron.com/shop/halloween-costume/WOMENS-COSTUMES-title0-p-1-c-541.html), provides hard to find costumes to customers around the world, making the mobile shopping experience simpler, quicker, and more convenient. Costume Cauldron's mobile friendly site makes it possible for consumers on the go to have costumes ordered from their cellular devices and delivered to their home, hotel, or favorite vacation spot, no matter where in the world it may be.
The interface of mobile devices and video game consoles are drastically different than the PC. Therefore websites must be optimized for these technologies. As most cell phones cannot support flash content, Costume Cauldron has created a site that uses fast loading static html pages and static images in place of flash graphics. With its easy to navigate interface, Costume Cauldron makes it incredibly simple to search costumes from Count Dracula, Devils and Angels to Witches and Warlocks. Whether someone is looking for cuddly costumes for babies or toddlers or something with a little more of an adult twist, Costume Cauldron's mobile website has everything to get a shopper and their whole family ready for the Halloween season.
And when a customer is ready to complete a purchase, Costume Cauldron is equipped with a dynamically generated shopping cart, and a secure checkout that supports major credit cards and paypal. Costume Cauldron, makes it easier than ever to shop for all one's Halloween costume needs no matter what platform a shopper will find most convenient or where they find themselves in the world.
Author Trevor Ellestad
###