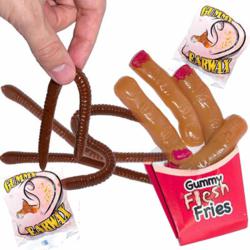 Flesh Fries? Ghost Boogers? This year's Halloween candy picks from Stupid.com are weirder than ever!
Los Angeles, CA (PRWEB) October 11, 2012
It's almost Halloween, and the most chilling, wicked, and hauntingly fun candy this side of Transylvania has arrived!
This year's Halloween Candy picks from Stupid.com, retailer of all things crazy and insane, are weirder than ever. From Gummy Earthworms, to Ghost Boogers, little boys and ghouls are guaranteed a fright night to remember with any of these crazy candies.
Here are few Halloween Candy picks that will help make the treats of the season a little more tricky:
Flesh Fries – These gummy treats are finger lickin' good! Each Flesh Fry is shaped like a severed finger and is cherry flavored. Extra dipping sauce is optional, but just thinking about ranch dressing with a handful of these treats is gross.
Ear Wax Nuggets – Great for Halloween parties, these little yellow treats are sure to get people's attention. Each ear-shaped pack comes with a handful of lemon-flavored gummies and best of all no Q-tip required!
Earthworms - Everyone has heard of gummy worms, but these super-realistic, cherry-flavored gummy earthworms are quite possibly the most disturbing candy ever sold. Imagine the horror on trick-or-treaters' faces when you hand them a packaged worm!
Spider Webs – Cotton candy has never been so spooky! This is a great addition to Halloween centerpieces or a frightful addition to any gift bag. Just open the bag and stretch out the webbing and enjoy. Add a fake spider or two to complete the eerie look.
Ghost Boogers– This ghoulish "pick" makes a great impression that really sticks. Spook guests by pouring these in a bowl and serving them during a party. They also make great party favors and trick or treaters love them too!
These five candies won the top spots out of dozens of weird and gross treats sold on the website. These five picks are sure to be big hits this year and will have all the party guests talking way after the party has ended.
About Stupid.com:
Stupid.com has been spreading laughs – one gift at a time – since it's burst onto the online retail scene in 1998. From great gag gifts, to silly stocking stuffers, the company offers a huge selection of over 2,000 products and 100 gift categories of crazy and insane gifts.
For years, Stupid.com has been providing shoppers with the most unusual and crazy Halloween candy on the planet. Stupid.com has everything needed to make that haunted house a little more haunted; from candy urine samples to cheddar-flavored crickets.
Stupid.com is not only known for great candy, it also has a wide selection of costumes, party decorations, and make-up and accessories to make any Halloween party a night to remember.