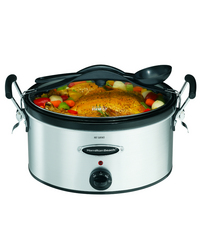 Slow cookers offer the versatility and convenience every home cook needs; especially during the holiday madness
(Vocus) November 7, 2008
Whether you need to prepare simple weeknight meals or you're entertaining for a crowd, Hamilton Beach has a slow cooker for every occasion. "Slow cookers offer the versatility and convenience every home cook needs; especially during the holiday madness," states Betty Byrne, Test Kitchen Manager, Hamilton Beach Brands, Inc. "Slow cooking is a time-saving and simple way to get dinner on the table. And the best part? It frees you up to do other things while dinner slowly simmers." Throughout this season, when the oven may be at maximum capacity and all burners are in use, a slow cooker can be used for side dishes, appetizers or even the main dish. While a slow cooker may be your best friend throughout the hectic holidays, picking the right one for your lifestyle and budget is important.
The traveler:
If you're taking meals on the road or to Grandmother's house for the big meal, the Stay or Go™ slow cooker is the perfect choice. It features a clip-locked, secure lid and tight seal for spill-resistant travel. Full-grip handles make carrying easy and it includes a serving spoon that clips into the lid handle - so the spoon is always on hand. A recipe name slot and removable paper labels are included to tell everyone what's inside.
The multi-tasker:
For the ultimate in flexibility, the 3-in-One slow cooker has a two, four and six quart crock so it's always the right size -- whether you're making a small appetizer or chili for a crowd. The stoneware bowls go right from the cooker to the table and nest inside one another for easy storage. From dinner for two to large stews and soups, this slow cooker can adapt to any recipe.
The intellect:
For the busy, hectic, on-the-go family, the Set 'n Forget® programmable slow cooker offers the convenience of programmable technology. Three distinct cooking modes allow you to create a delicious dinner, despite any traffic or scheduling surprises that come your way. A thermometer probe lets you cook food to a specific temperature, or you can cook your meal for a specific length of time. Either way, your Hamilton Beach® Programmable Slow Cooker will take it from there, keeping your meal warm until you're ready to sit down and enjoy it.
Stay or Go™ Slow Cooker
Model 33162H Stainless
MSRP $42.99
Other sizes and models available at http://www.hamiltonbeach.com
3-in-One Slow Cooker
Model 33134
MSRP $62.99
Other sizes and models available at http://www.hamiltonbeach.com
Set 'n Forget® 6 Quart Programmable Slow Cooker with Spoon/Lid
Model 33967
MSRP $69.99
Other sizes and models available at http://www.hamiltonbeach.com
Images of Hamilton Beach® products are available online at http://www.hbps-imagebank.com
Media Contact:
Mary Beth Dukes 804.418.8868
marybeth.dukes@hamiltonbeach.com
###