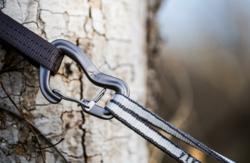 We're maintaining our promise of innovation by always adding value for our customers and creating outdoor adventure products of the highest quality.
Austin, TX (PRWEB) March 18, 2013
Socially conscious adventure brand, Kammok® announces two new products to their line of revolutionary outdoor gear. As part of an update to the popular Kammok Roo camping hammocks, the company is releasing the Kanga Claw™ wire gate carabiner and Racer™ Sling. These new products will come standard with the new 2013 Roo hammocks, adding $34.00 in advanced upgrades without affecting the list price of $99.00.
To support their lightweight adventure hammocks, Kammok has developed the revolutionary Kanga Claw™ wire gate carabiner. With a patent-pending design, made possible by hot forging aerospace grade aluminum, the Kanga Claw's dual chambers ensure that webbing (or rope) is kept aligned with the strongest 22kN axis. Intentionally over-engineered to be used with the Kammok Roo hammocks, the Kanga Claw also serves as a full strength quick draw climbing carabiner. The Kanga Claw boasts a smooth ergonomic exterior, while juxtaposed plateaued interior surfaces maximize strength and smooth rope feeding. The unique two-step surfacing process gives the Kanga Claw a bombproof finish.
Kammok also adds the Racer™ Slings, made from Dyneema, touted to be the world's strongest fiber. The 9 mm Racer™ Slings come standard with all new 2013 Roo hammocks (2 per Roo). Racer snakes are fairly slender, have a very smooth and tight scale pattern, and as their name would imply, they are faster than most snakes. Racer™ Slings are lighter weight (0.3 oz), have a higher abrasion resistance, stronger (22kN), have a tighter weave, and resist moisture better than traditional nylon runners. Designed for alpine climbing, Racer™ Slings help keep you light and agile and allow your rope to slither smoothly with decreased drag.
Each Roo hammock will come with two (2) Kanga Claw™ carabiners as well as two (2) Dyneema Racer™ Slings. Kammok has also added low-light reflective tracers woven the length of their revolutionary Python Straps™.
"We're maintaining our promise of innovation by always adding value for our customers and creating products of the highest quality," said Greg McEvilly, creator and CEO of Kammok. "The Kanga Claw and Racer Slings are more than simply advancements to our existing product. They're revolutionary equipment that our customers can use in a variety of outdoor adventures. These new products mark the beginning of many exciting new releases this year."
The Kammok Roo hammock retails at $99.00, and the Python Straps retail at $29.00. Kammok has added $34 worth of upgrades to the Roo camping hammock while maintaining the same price for their customers. The Kanga Claw will retail at $10 and the Racer Slings at $7 at select retail partners and the Kammok website (http://www.kammok.com).
In 2013, Kammok is poised to enter new categories and release multiple first-to-market products in the outdoor retail market.
Kammok is one of the first in the specialty outdoor industry that has deployed a 'high social and environmental impact' business model, relying heavily on strategic partners to accomplish their social and environmental goals.
About Kammok-
Kammok® is a revolutionary brand bringing innovative and high quality outdoor lifestyle products to the socially conscious adventurer. Kammok is partnered with Malaria No More, a 1% For the Planet member, and a registered B Corporation with a mission to: Equip and Inspire for Life Changing Adventure™.