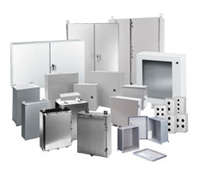 Riverside, Calif. (PRWEB) July 13, 2009
Solutions Direct Online is now an authorized distributor of Hammond Manufacturing Ltd. to sell Hammond's full line of industrial enclosures, corrosion resistant enclosures, electrical enclosures and operator interface enclosures. The partnership enables Solutions Direct Online to sell all of Hammond's premium quality metal enclosures at reasonable prices to its customers.
Hammond Manufacturing Ltd. has more than 25 years of providing quality metallic enclosures for its customers. The industrial enclosures from Hammond cover a broad spectrum of design needs: clamped covers, quarter-turn latch covers, window doors, dual access, panel mounting, DIN rail mounting, 19" rack mounting and more. Enclosure sizes range from small junction boxes to five door freestanding enclosures. All Hammond enclosures are NEMA, UL, CE, and CSA rated. Available NEMA ratings are 1, 4, 4X, 12 and 13. Solutions Direct Online provides detailed technical specifications of it metal enclosures on its website.
Hammond's robust line of metal enclosures can be used in almost any application that requires a metal enclosure. Most designs are also available in both indoor (NEMA 12) and outdoor (NEMA 4) versions. When environments get harsh, enclosures must be even more durable, so the Hammond line of NEMA 4X enclosures are made of stainless steel and aluminum suited to varying corrosion resistance needs. Disconnect enclosures feature cutouts for compatibility with flange mount disconnect switches and circuit breaker operators, and the units are compatible with ABB, Allen-Bradley, C-H Westinghouse, GE, ITE and Square D. The flexibility of Hammond's modular freestanding enclosure system permits stand-alone use or multiple applications to be combined in one continuously joined system. Hammond systems come pre-configured for easy ordering and without costly assembly. Wire way and trough products include numerous enclosures to house components specifically designed for operator interface.
Solutions Direct Online has its website designed with industrial customers in mind, so links to related products and technical details are available on every page. In order to ease navigation, Solutions Direct Online has also divided its offering of Hammond's industrial enclosures so that customers are able to easily navigate through its website to find the enclosure that they need. Enclosures are divided by type (industrial, corrosion resistant, disconnect, modular freestanding and operator interface enclosures) and by cover style; there are many enclosure accessories available as well. The product page for each enclosure has everything a customer would need to know about the enclosure before specifying it in their application: technical details such as industry ratings, dimensional drawings and competitor cross-references are available on each page.
For additional information on the agreement between Solutions Direct Online and Hammond Manufacturing Ltd., contact AJ at (888) 886-8185, or visit SolutionsDirectOnline.com
About Solutions Direct Online:
Solutions Direct Online is an online distributor that provides technical products for industrial customers, and strives to provide the highest quality products at affordable prices. Some of the products offered include fiberglass enclosures, fixed-mount infrared sensors, handheld infrared thermometers, manometers, material testing equipment, metal enclosures, polycarbonate enclosures, pressure sensors and gauges, temperature controllers, scales and balances.
Contact Information:
AJ
Solutions Direct Online
(888) 886-8185
info(at)solutionsdirectonline(dot)com
###