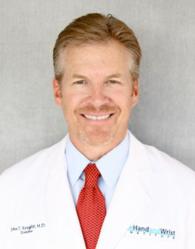 The launch of the new website, johnnightmd.com, makes it even easier for people to gather information about Dr. John Knight on the Web.
Beverly Hills, Ca (PRWEB) March 21, 2013
Sometimes finding information on a clinic's website about a doctor can take time. Many people with wrist and hand problems want to be able to get information quickly about doctors they are considering seeing for their problems. The Hand and Wrist Institute has made it simpler for potential patients to learn more about the director and specialist through the launch of a new website dedicated to Dr. John Knight. JohnKnightMD.com provides all of the information that people need to make a decision about whether to get a consultation or treatment from the institute's orthopedic surgeon.
Web users do not have to search extensively to find information about Dr. Knight on the new website, which is dedicated to the doctor and his treatments. The website's home page provides a wealth of valuable information about the surgeon, so potential patients do not have to look further on the website. The homepage has information about the doctor's background in orthopedic surgery, his certifications and his treatments. People can also watch a video in which Dr. Knight talks more about himself and his minimally-invasive procedures for people with different hand and wrist problems.
From the website, people can learn a great deal about how Dr. Knight and the Hand and Wrist Institute stand out. The website discusses how Dr. Knight uses outpatient treatments to help people with problems that are difficult to cure, such as carpel tunnel syndrome. The website also goes into how Dr. Knight treats wrist deformities and wrist problems with the most innovative procedures available and has pioneered certain treatments, such as the toe to thumb transplant. After looking at the home page, potential patients can get a better idea of whether Dr. Knight would be the best person to treat their hand, wrist or upper extremity issues.
The new website links to other sites where people can find additional information about the institute, its surgical procedures or conditions affecting the wrists or hands. The links take web users to the Hand and Wrist Institute's main website, where they can get more of an idea of what to expect if they choose the institute for treatment. The main website also has links to social media websites, such as Facebook, Google + and YouTube, where they can connect directly with Dr. Knight.
The launch of the new website, johnnightmd.com, makes it even easier for people to gather information about Dr. John Knight on the Web. The website helps potential patients to get a better understanding about whether the orthopedic surgeon offers the type of treatments and background for which they are looking and make decisions over whether to go with the doctor and institute.