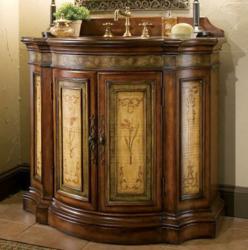 Hand painted bathroom vanities can do a lot for the bathroom – add charm, customization, color, age, and authenticity.
(PRWEB) September 16, 2012
HomeThangs.com – the Home Improvement Super Store has made their goal to deliver the right product to the consumer, with that in mind, shopping and home design tips, as well as special product selections are being introduced.
Bathroom vanities are the centerpiece of most bathrooms. Unless there is a particularly stunning freestanding bathtub or an elaborately tiled custom shower stall, there's a good chance that the vanity is the most unique fixture in the bathroom. That can mean one that's an unusual shape, one that has elaborate woodwork, or even one that's made from uncommon or mixed and matched materials. Hand painted bathroom vanities often have a very high level of detail, are more colorful, and are just plain more interesting to look at.
With a wide variety of bathroom vanities available, it might be overwhelming for the consumers to find the right one. With that in mind, HomeThangs.com introduced a selection of hand painted bathroom vanities as well as a tip sheet to help its customers better understand options available and make the right choice.
1. Hand painted bathroom vanities come in a lot of shapes and forms, from kid-friendly to contemporary, period inspired and exotic. The Versaille Vanity from Empire Industries for example, is a wonderful example of antique-style hand painted bathroom vanities. It has a curved classical form with subtle column style carvings and beautiful patterned veneer accents. But the most impressive thing about it is the hand painted detailing – the floral bouquet on the front and side doors, and the subtle painted accents on the borders and drawers. The light, summery colors give this sophisticated vanity some warmth and charm, as well as the homey authenticity you can only get from details done by hand.
2. When it comes to antique hand painted bathroom vanities like the Versailles Sink Chest Vanity from Cole+Co for example, hand painted details actually have a dual effect. In this case, not only does the painted floral detailing enhance the carved woodwork, adding authentic French country style, it also gives the vanity a slightly aged appearance.
3. Speaking of authenticity, while an average contemporary or modern design won't miss it, if looking to build an Asian inspired bathroom, something like the Travel Chest Vanity by Cole+Co will give an authentic, period inspired exotic design. This vanity is absolutely covered in elaborate, historically inspired, hand painted flourishes with just enough weathering and wear to make it look like the real deal. Regardless of how elaborate anything else in the bathroom happens to be, hand painted bathroom vanities like this one are show-stoppers, sure to be a major focal point in the bathroom.
4. On the other hand, sometimes it's the simplest, subtlest details that lend the most historical accuracy. Kaco is well known for using high-quality Sherwin Williams finishes on all their bathroom vanities, but the Arlington vessel vanity also has some subtle, hand painted finishing details. From the delicate, supremely aged-looking antique floral pattern painted on the front cabinet to the rubbed, weathered gold accents highlighting the woodwork, not only does this vanity look polished and sophisticated, but also more than a little bit antique. The use of weathered details on hand painted bathroom vanities – even if the base finish itself is solid and intact – can bring to mind old world elegance and can make a vanity look antique without making it look old.
5. Even subtle hand painted detailing, like the faint, delicate vine patterns that lace over the Antique Vanity from Belle Foret can make a huge difference in a vanity's overall look and feel. Without the hand painted vines, this vanity is fairly ordinary and largely un-ornamented. But the light wood, paired with the natural, floral-style detailing gives it a touch of whimsy and makes it something you can design, say, a simple cottage style bathroom around. Hand painted bathroom vanities like this one make it easy to add a fairy-tale touch to the bathroom.
6. Hand painted bathroom vanities can do a lot for thebathroom – add charm, customization, color, age, and authenticity. But more than anything, hand painted bathroom vanities are, plain and simple, the perfect way to add a little character to a bathroom where one might not otherwise have room to do so. The Glendale vanity by Cole+Co for example, features the delicate, antique-looking hand painted flowers, and the texture created by the two-tone paneling, the papyrus-like color and feel of the panels, and the foresty contrast of the dark brown wood and the deep piney green borders and trim.
HomeThangs.com is not only a home improvement superstore, it also provides expert design tips and a comprehensive shopping guide, taking the ideas from professional interior designers, and offering tips to the consumers on how to pick the products to best suit their needs.