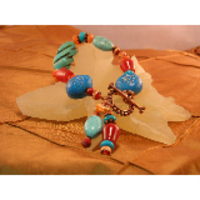 There are so many extraordinary works out there
Phoenix, AZ (PRWEB) March 25, 2008
Artisans Market, an online marketplace promoting artists and their one-of-a-kind creations to consumers, announced a new, lower rate for vendors to sell their art online.
Now, artists and other talented individuals who participate in selling their handmade crafts with Artisans Market can create an artist gallery online and retain 90 percent of their sales commission, paying only $10 per month (less than 30 cents a day) for the benefits of a widely networked, merchant community of artists with marketing capabilities that exceed most individual efforts.
With the increasing popularity of e-commerce, ArtisansMarket.com has tapped into a niche that allows artists to dedicate more time honing their craft and perfecting their pieces rather than spending precious time setting up booths or monitoring websites. Membership with Artisans Market allows artists to post as many paintings, sculptures, artisan crafted jewelry products, and other handmade gifts as they want while retaining more of the money they've earned - ninety percent of sales.
In addition to the new, lower rates for vendors, artist members can also take advantage of other benefits from Artisans Market including:

Online marketing, Search Engine Optimization and newsletters
Unlimited selling time
No per-item fee
Unlimited gallery space
No advertising limitations
Artist/client customer service
Merchant Services account
Selling art online, promoting specialty pieces such as one-of-a-kind artisan crafted jewelry and highlighting individual artists on Artisans Market has attracted consumers and artists alike from around the world. "There are so many extraordinary works out there," Virginia Curry, President of Artisans Market, Inc., says. "A group of people working together can accomplish so much more, and now, through ArtisansMarket.com, artists, for a very reasonable cost, can sell their hand-crafted items and have all the necessary support for advertising, Web promotion, sales transactions and other benefits."
With new, lower rates for selling art online, ArtisansMarket.com continues to support artists through a commitment to maintaining an affordable, visible online marketplace dedicated to the beauty of art and those who create it.
ArtisansMarket.com is an online marketplace focused on the successful promotion and preservation of hand crafted products through education and information and the networking of artists to heighten visibility and support a competitive business environment.
###