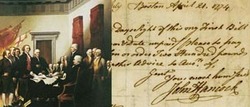 I don't know many people who would blast their names on a document that almost guaranteed their demise
Los Angeles, CA (Vocus) January 16, 2010
The first and boldest signer of the Declaration of Independence, John Hancock is as well known for his signature as he is for standing up to King George and the British in 1776. In fact, three key components of his signature reveal why this American leader earned the respect of an entire developing nation, according to handwriting analyst Bart Baggett of http://www.HandwritingUniversity.com. For Hancock's birthday and National Handwriting Week (January 17-24, 2010), Baggett unveils the secret success traits evident in Hancock's "John Hancock."
"I don't know many people who would blast their names on a document that almost guaranteed their demise," says court qualified handwriting expert Bart Baggett, author of the best-selling "Success Secrets of the Rich and Happy" (Empresse Publishing, $17.95 ), "Larry King Live's" on-air handwriting expert and Director of Handwriting University. "An examination of John Hancock's signature indicates the obvious and inarguable character traits that define confidence, bravery and courage. It is as revealing as any biography I have read!"
Born in Braintree, Mass, Hancock inherited Boston's leading mercantile firm from his uncle, and he naturally opposed the Stamp Act (1765) and other British trade restrictions. In 1768 his ship Liberty was seized as a smuggler and confiscated by the crown. A riot ensued, and later the ship was burned. Hancock was hailed as a martyr and elected (1766) to the legislature, where he joined Samuel Adams in advocating resistance to England. In 1775, Gen. Thomas Gage issued a warrant for their arrest, but they escaped.
According to Baggett, John Hancock's underlined signature is a classic example of leadership, bold defiance, and a great self esteem. Here's why:

Hancock used long strokes on many letters, demonstrating his enthusiasm and boundless energy.
He wrote with tall upper zone loops, which represents someone who stands tall with strong ethics.
He drew noticeably tall letters, showing his courage, pride and desire to be admired by his peers.
Those who don't underline their signatures and whose name is smaller in size shouldn't fear, according to Baggett, for success may be found in other handwriting traits:
Strong self-esteem (Large capital letters in a signature and high crossed t bars)
Determination (heavy down strokes below the baseline into the lower zone)
Persistence (not picking up your pen when you cross the letter t or A forming a star)
Long Lasting, Enduring Emotions (pressing very hard on the paper )
The average person might have one or two of his John's success traits, but not all of them. He is a great example of how the handwriting reflects the successful man... not how man's handwriting makes the man.
Bart Baggett is one of the world's Top Court Qualified Handwriting Experts. He is president of Handwriting University, the online handwriting analysis membership site that has students in over 17 countries and campuses in the USA, India, and Taiwan. He is a frequent guest on such TV networks as Court TV, CNN, and Fox News. He has even successfully survived appearances on the Howard Stern Show and VH1's "I Love New York". Baggett lives in Los Angeles and is a faculty member of the International School of Forensic Document Examination, a distance learning school which trains handwriting experts worldwide.
Readers can discover what their handwriting reveals about them through in a written report using Baggett's free online handwriting analysis self-test at Handwriting Wizard. This is a great resource of anyone to experience the accuracy of handwriting analysis.
For a full media kit, visit : http://myhandwriting.com/media/
# # #