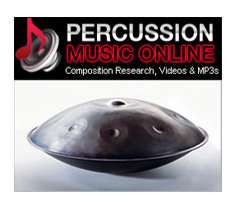 PANArt has firmly established itself as a gem of the percussion world.
Dallas,TX (PRWEB) March 12, 2013
In recent years, the hang drum (hang as it is also commonly known) made by PANArt has firmly established itself as a gem of the percussion world. Played by the hands, It's pure rich tonal qualities leave even the most skeptical of listeners mesmerized. The versatility of the instrument lends itself to a wide range of musical settings and the hang drum can be used as a convincing solo instrument, or as part of an ensemble. The hang drum itself has several playing surfaces which are sculptured at a certain depth to produce defined pitches with many beautiful overtones. In addition, the root of the scale can predominantly be found in the middle of the instrument which is called the ding. Allowing for a more rhythmical timbre produced around the ding, it is also possible to have all three timbres contributing together, producing a phenomenal tonal kaleidoscope (Bass from the ding, rhythmical groove around the ding underpinning delightful melody and accompaniment possibilities).
They are hand crafted out of Bern, Switzerland. Demand is exceedingly high and many youtube videos have received millions of views. It is very hard to come by a hang drum via the traditional methods - many write to Felix and Sabina of PANArt and wait for an invitation to visit Bern. Due to this lengthy process, the rush is on and many opt to buy their instruments second hand. Some early models originally retailed for around $750. Unfortunately, purchasing these instruments second hand, could fetch way into the thousands of dollars.
With supply low and demand exceptionally high, there is always people looking to exploit the situation. We recommend contacting Sabina and Felix first and do not endorse second hand sales. For their full buyer's guide, visit http://www.percussionmusiconline.com/hang-drum.html
Founded in 2006, Percussion Music Online is an internet resource for teachers and students. Their aim is to provide members with a free platform to research percussion music that best suits the players in terms of difficulty, duration, composer style, number of players, instrumentation, copyright dates, composition dates and much more. In addition they have just started an instrument glossary and hope to collate information on the various percussion instruments from around the world to display on one medium. A team of three people regularly update the resource with new compositions and as of the 12 March 2013 they have 6978 members and 6825 compositions registered. Publishers and composers from around the world help to post and update information on their publications.