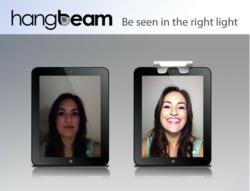 "I think more people would feel comfortable in front of the camera during Skype and Factime chats if they had the right lighting" Edgar Caballero
Miami, FL (PRWEB) March 14, 2013
Hangbeam is a tablet and mobile lighting accessory that enhances video conference, Skype and FaceTime chats. The sleek, compact and simple-to-use gadget is designed to improve the overall end user experience in the mobile environment by bathing the web cam area in soft, lush light.
The new to market tablet and mobile device accessory is the brainchild of Miami semi-professional photographer Edgar Caballero. Mr. Caballero was in the market for a stronger light for his DSLR camera for a video shoot. Unimpressed with the range of products available, Mr. Caballero decided to design his own. Seeing how well the light performed, he looked for other applications and realized that when using his tablet for video chat the lighting was often inadequate and he set out to design a mobile light that would enhance the whole video chatting experience.
One major challenge was to identify a method to properly and favorably illuminate a person's face in a video telephony milieu. Through extensive product development and research, Mr. Caballero was able to define a suitable spectrum of light to flatter a vast array of complexions and skin tones.
"I think more people would feel comfortable in front of the camera during Skype and Facetime chats if they had the right lighting." Edgar Caballero
Hangbeam measures less than 3" wide atop the device, operates on a long-lasting lithium battery, and is powered by a specialized ultraviolet balanced LED bulb array. It has the same fixed focal range as a mobile device's front-facing camera or a standalone web cam light. Hangbeam uses an ultraviolet light that cuts glare and produces a warm glow around the user's face.
Versatile, handy and solid, Hangbeam is perfect at the office, at home or on the go and doubles as a convenient lighting device in any situation.
About Hangbeam
The Hangbeam team led by Edgar Caballero is based in Miami, Florida. The Team intends to bring the Hangbeam to market with the funding received and believe that this could be a start to a new line of lighting products.