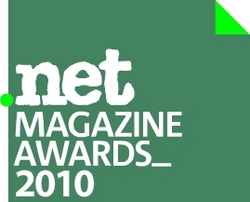 "Happy Cog's roster of incredibly talented thought leaders and design professionals, along with our clients, who bravely put the needs of their users above all other considerations, made this award possible" - Jeffrey Zeldman, Founder
Philadelphia, PA (PRWEB) November 29, 2010
Happy Cog, an internationally acclaimed web design and development firm, today announced that it has won the "Design Agency of the Year" award at the .net Awards that took place in London on 18 November, 2010. The award was received by Happy Cog Founder and Executive Creative Director Jeffrey Zeldman, along with Presidents Greg Hoy and Greg Storey.
Happy Cog was nominated for the honor via online submissions from the international web design and developer community, and was selected Design Agency of the Year by a panel of esteemed industry experts from such entities as Yahoo, Adobe, AKQA, Opera, and Microsoft.
"Happy Cog's roster of incredibly talented thought leaders and design professionals, along with our clients, who bravely put the needs of their users above all other considerations, made this award possible," said Happy Cog founder Jeffrey Zeldman.
Zeldman also won two other awards at the event, including the "Standards Champion" award, which is given to an individual advocating accessible design, for the third year in a row. He also won the award for "Video Podcast of the Year" with co-host Dan Benjamin for "The Big Web Show," a weekly video interview show on "everything web that matters." Happy Cog also this month won four Interactive Media Awards for its work with Zappos.com and VisitPhilly.com.
The .net Awards celebrate the best in web design and development, mixing public opinion with the insights of leading industry experts. The Awards are produced by .net Magazine, the world's best-selling magazine for web designers and developers since 1994. The publication is available in the United States as "Practical Web Design."
About Happy Cog
Founded by web visionary Jeffrey Zeldman and staffed by creative superstars, Happy Cog delivers beautiful websites that never lose sight of the human being using them. From site structure to interface design, from branding to content development, Happy Cog's people are the authorities. Happy Cog has offices in New York, Philadelphia and San Francisco. Visit Happy Cog online at http://happycog.com or visit their blog at http://cognition.happycog.com.
Contact:
Greg Hoy
President
215-701-3936, x701
projects (at) happycog (dot) com
# # #