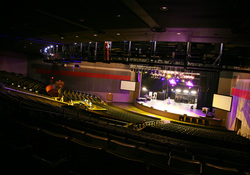 Tulsa's Newest Entertainment Venue Nears Completion
Tulsa, Okla. (Vocus) August 31, 2010
All the permanent seating is installed, the bright lights are changing colors, and the rumble from the speakers sound like a symphony is on stage. In reality, it's merely the Hard Rock Hotel & Casino Tulsa staff preparing for the Sept. 30 opening of the Joint.
After one year of construction, the 45,000-square-foot venue is nearing completion. Most of the remaining work is cosmetic additions and continual practice on the cutting-edge technology.
"It's exciting knowing how close we are to being ready, yet there's still a month before we raise the curtains for The Doobie Brothers," said Jon Davidson, senior director of hospitality services for Hard Rock Hotel & Casino. "Now, we can spend a lot of time perfecting event production while knocking out the remaining items on the punch list."
Following The Doobie Brothers in the first weeks are industry heavyweights Bad Company, Kenny Rogers, Michael Bolton and Daryl Hall and John Oates. Limited tickets remain for all shows.
The $22-million venue holds 2,700 guests in three seating levels and nine private suites that are, at the farthest distance, less than 200 feet away from a stage that is 35 feet deep and 60 feet wide.
Flanking the stage are two 14-foot projection screens to show event footage in high definition. There is also an optional 25-foot screen located at the back of the stage.
As preparation continues, casino officials will soon perform two simulations to test all aspects of production to ensure a smooth operation on opening night.
As more than 50 stage lights moved in varying directions and the bass from eight subwoofers vibrated the seats, Danny Finnerty, entertainment director for Hard Rock Hotel & Casino Tulsa, said he's ready for guests to experience all the Joint has to offer.
"I've been telling people there is not a bad seat in the house, and I truly mean it," Finnerty said. "Now, I'm ready for all of us to share in the one-of-a-kind experience the Joint provides our guests."
Hard Rock Hotel & Casino Tulsa is located off of Interstate 44 at exit 240A. Ticket prices and information on upcoming shows are available online in the Joint section of http://www.hardrockcasinotulsa.com or by calling (918) 384-ROCK. The Joint box office is open from 10 a.m. until 6 p.m. Monday through Saturday. All guests must be 21 years of age or older.
###