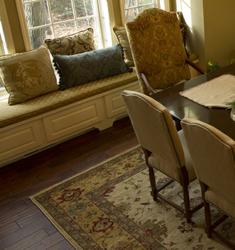 "Hardwood floors are environmentally friendly, forever fashionable, last for generations with an expected life span of up to 100 years for certain premium hardwood flooring. Hardwood's one-time investment has a very long-term payoff." ~ Pembroke Jacobs
Minneapolis, Minnesota (PRWEB) March 15, 2013
Despite a slowdown in the overall economy, home remodeling involving hardwood surface flooring continued to make inroads in the U.S. floor coverings market in 2012, according to Catalina Research results. "Premium residential neighborhoods have chosen hardwood flooring significantly more often for three years in a row, like we find in our Wayzata home renovations," commented Destiny Homes.
"Twin Cities residential Realtors that I talk with agree- homes with hardwood floors hold their value better, sell homes quicker and fetch higher prices. When buyers have a selection, hardwood floors may well make the difference between selling your home or watching a potential buyer turn around and purchase a home that does," says Butch Sprenger, owner of Destiny Homes.
According to Catalina's Quarterly Updates, the value of hardwood flooring sales is estimated to have increased three consecutive years by:
4.3% additional gains in 2012
4.4% increase up in 2011
15.8% gain in 2010
Destiny Homes Has Found The Following Benefits of Hardwood Flooring:
Hardwood Flooring Increases A Home's Value - Hardwood floor installations increase the market value of a home and enhance its desirability. The key is quality of wood grade that is used. Top grade suppliers select hardwood devoid of naturally occurring "character marks." Trendy homes designed with a rustic country charm; may find character grades to fit their interior décor. Hiring an experienced professional for floor installation will insure the homeowner's investment and guarantee it is done successfully.

Hardwood Flooring Is Cleaner & Hypo-allergenic - Homeowners who opt for hardwood flooring gain benefits from its stunning natural look and unique grain features but also the cleanliness. This can be a particularly helpful in families where a member or frequent home guests have allergies. Since carpeted floors can actually house more dirt, pet hair and mold if not taken care routinely, a hardwood floor becomes a preferred option.
Dings And Dents Only Beautify It - Followers of home design trends may recall back 1990's when reclaiming floors from older commercial buildings was a big hit. The character of hardwood floors comes from all the scars from use, nail homes, gouges and scrapes along the way, and are regarded as part of the beauty and history of the wood.
Exotic Wood Choices Add Distinguishing Style To A Home - Exotic flooring brings a truly unique look that become a means of expression of luxury tastes and distinctive homes that reflect the homeowner's personality. Hardwoods in the exotic family offering uniqueness include Brazilian Cherry, Ipe, Chestnut, Tigerwood and Amendoim for starts. Additionally, there are varieties of wood species, finishes, stains, and patterns from which to select. For homeowners weighing whether to buy American hardwood over exotic wood, it is good to understand that several exotic wood types – including Brazilian walnut, Brazilian teak, Tiete rosewood, and Santos mahogany – require less "pampering" because of their high Janka Hardness Rating.
Hardwood Floors Are Durable And Easy To Maintain - Today's homeowners are thinking more about adding long-term value to their homes as a primary investment. Hardwood floor manufacturers are committed to improving product performance, by designing and improving hardwood flooring material that are meant to last and offer warranties to prove it. A hardwood floor is durable; lasting virtually a lifetime with proper hardwood floor care.
Hardwood Floors Are Environmentally Friendly - Indoor air quality is one of the top health threats and wood floors can help contribute to a healthy living environment.
Jim Gould, president of The Floor Covering Institute, commented March 4th after returning from a show in Germany: "Compare today's floor covering to those of 20 years ago. The improvements are impressive. I am excited and concerned when hard work, money and commitment to excellence made by our industry leaders are often boiled down to the lowest price per square foot". Value for premium hardwood flooring comes with a corresponding cost.
With such high demand for hardwood, some hardwood floor suppliers had a record year for sales in 2012. An astonishing 99 percent of real estate agents responding to the national 2012 survey conducted by the National Wood Flooring Association agreed that homes with hardwood floors are easier to sell. The survey also found that 82 percent believe that homes with hardwood floors sell faster and 90 percent said they would sell for more money.
"We use hardwood flooring when building Twin Cities luxury homes, additionally finding that adding hardwood floors during Minnetonka full house makeovers adds to a room's warmth, sophistication, comfort, and personal style statement," adds Sprenger.
Call Destiny Homes at 952-934-5706 for your home renovation needs.