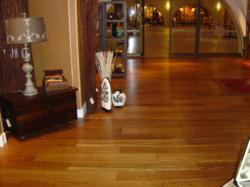 Atlanta, GA (PRWEB) April 19, 2012
Engineered wood is constructed using a veneer, or surface layer, of the desired wood, which is bonded to more layers of softer, renewable woods like pine, balsa and poplar. This manufacturing technique is better for the environment because it reduces harvesting of slower-growing hardwood forests.
Engineered wood also lasts longer than many solid woods because it is more resistant to climate and humidity changes. Flooring that lasts longer ensures that less wood will be needed to meet demand.
Inspired by classic modern design, the Vintage Couture engineered wood collection by simpleFLOORS adorns both traditional and modern interiors with "perfect imperfection". Authentic hand-scraped floors are available in much-acclaimed natural species sourced from around the planet, including American Cherry, Black Walnut, True Teak, African Walnut, Brazilian Cherry and Hickory.
simpleFLOORS also uses sustainable cork underlay with most flooring installations, as it offers excellent durability and sound-dampening properties.
Earth-friendly engineered wood floors by simpleFLOORS . . . ecologically sustainable hardwood flooring options for Earth Day 2012.
simpleFLOORS Inc. is an Atlanta-based online retailer with 15 showrooms in California, Oregon, Washington, Georgia and Florida, offering premium-grade design-conscious wood flooring at guaranteed low prices. Guided by fresh insights from the interior design community, including new color trends, depth-enhancing hand-sculpting techniques and distinctive grain treatments, simpleFLOORS contract-manufactures, imports, sells and ships direct to residences, business addresses and construction sites anywhere in the U.S. and Canada.
From engineered exotic species to bamboo and cork products, simpleFLOORS respects the environment and carries a wide range of sustainable, regenerative, durable and long-lasting wood flooring options.
Contact simpleFLOORS at 800-220-7112 or visit the simpleFLOORS website at http://www.simplefloors.com