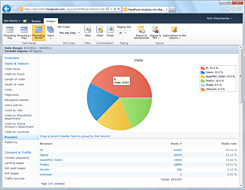 (PRWEB) April 18, 2013
HarePoint Analytics for SharePoint 2010 is the ultimate web-analytics solution for sites based in SharePoint 2010. The product shows details and trends about corporate site usage including full and cross-linked reports about visitors and their behavior; documents, search services and workflow usage. HarePoint Analytics reports provide information that is useful in the daily administrative activities as well as long-term management related with observing behavior in departments, determining usefulness of content, and popularity of various portal features.
The most important update in the new version of the product is the change in data processing by means of a new algorithm which collects and calculates daily and monthly statistical data separately. This speeds up data processing significantly and excludes any possible issues with the product's performance. For sites with huge number of visitors or hits, this is especially critical.
Other great news - new reports in HarePoint Analytics for SharePoint 2010:

'Web-sites without visits' - this report shows which web-sites have not been visited since specified date;
'Mobile Devices' and 'Mobile Device Details' - these reports provide the details regarding mobile devices used for web-site visiting and browsing;
'Workflow association usage', 'Workflow instances usage', 'Workflow instances duration' and 'Workflow instances by status' - these reports give a detailed picture of the usage and state of SharePoint workflows.
"Clients who use HarePoint Analytics for Internet web-sites asked us for reports with details about how many mobile users are exploring sites and what mobile devices they are using so we created these. We also improved a deep parser for the UserAgent string and we can display information from that in the reports now. Furthermore, it allows us to extend the existing reports which display data about user's browsers and platforms. Finally, we added a whole group of reports about workflows (statuses, duration, usage, etc.), which will be very helpful to Site Collection admins," reports Sergey Voronkov, the lead developer of HarePoint Analytics.
The new version of the product is available on the HarePoint Analytics for SharePoint 2010 homepage.