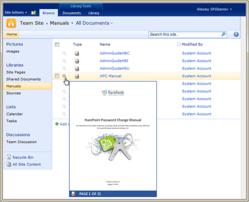 (PRWEB) March 15, 2013
MAPILab (HarePoint trademark), a developer of software products for use in Microsoft SharePoint, presents a new software product – HarePoint Thumbnails for SharePoint.
Solutions built on the SharePoint platform occupy a significant share of the corporate internet and intranet portal segment, mainly because Microsoft's highly advanced technology provides comprehensive support of business process functionality and teamwork.
But as sophisticated a system may be, there are always 'pesky little things' that can complicate work for users or make them waste their time on robotic operations. The example: several users have access to a SharePoint document library containing white papers, manuals, and technical datasheets for various products. So there are a few dozen files in different formats, created and uploaded by different team members. Opening up this library, it's not easy to figure out what the content of 'ABC_manual.pdf' or 'final_descr_025.docx' might be. The usual answer is obvious – download the files to your desktop and open them one at a time. In other words, create unnecessary traffic to check unneeded files in a time-consuming search.
HarePoint Thumbnails for SharePoint has been created specifically to simplify such work. The product is a solution which lets to browse documents and images conveniently inside SharePoint libraries by creating handy thumbnail previews.
HarePoint Thumbnails displays document and image thumbnails directly in SharePoint libraries, and gives the chance to preview the document immediately instead of downloading and opening it. This product is really a lifesaver when it's necessary to locate a specific document, image or presentation in a large library or a long list of search results.
HarePoint Thumbnails generates previews for Microsoft Office documents, PDF files, images, web pages and email messages. It also supports configuration of thumbnail size and the number of pages visible in the preview. The product works with Microsoft SharePoint 2010/2013.
Full information about the product and the 30-day free trial are available at the HarePoint Thumbnails for SharePoint home page.