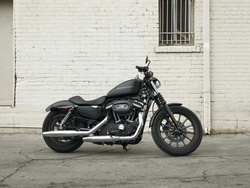 The Iron 883 is a bike that provides a pure riding experience and gives its owner a platform for personalization
Milwaukee, WI (PRWEB) February 5, 2009
With a defiant attitude embracing the pure essence of riding, the new Iron 883 is the latest Harley-Davidson Dark Custom motorcycle.
Harley-Davidson Sportsters like the Iron 883 have stood against the grain since their introduction in 1957, when the modern rebel culture was being bred from restless veterans and hot rod pioneers. Sportsters became the starting point for many legendary choppers of the 1960s, while also getting pumped up for championship dirt racing and dare devil stunt riding in the 1970s.
The Iron 883 keeps the rebellious fire burning with responsive handling, smooth clutch effort and durable carbon reinforced drive belt while pushing the styling of motorcycling minimalism to the edge. Decked in black from fender-to-fender, the new Harley-Davidson Iron 883 brings the beat of an 883 Evolution engine backed up by a combo of gritty, old-school garage features like front fork gaiters, drag style handlebar and side-mount license plate.
"The Iron 883 is a bike that provides a pure riding experience and gives its owner a platform for personalization," said Mark-Hans Richer, Harley-Davidson Chief Marketing Officer. "It's totally open to the creativity of the rider."
The black powder-coated 883 cc Evolution powertrain with black covers takes the Iron 883 deep into the heart of darkness. With Electronic Sequential Port Fuel Injection (ESPFI) and performance tuning with a flat torque curve, the Iron 883 delivers plenty of power for the city scene. The pipes on the straight cut shorty dual exhaust flow the distinctive American V-Twin sound. A ticket to ride the Iron 883 starts at just $7,899 MSRP, leaving plenty of freedom for customization.
The black chopped rear fender with its combination stop/turn/tail lights shows more of the 150 mm rear tire and black cast aluminum wheel, while the front tire also rides on a black wheel. The rest of the Iron 883 gets a darker-suited presence with black front forks and fender supports, fuel tank, oil tank cover, belt guard, drag style handlebar and mid mount foot controls.
A classic Sportster solo seat with a height of 25.3 inches fits the lone rider, while a passenger seat and a backrest in complementing black finishes can be added as accessories.
As the latest of the Harley-Davidson Dark Customs, the Iron 883 is stripped down and ripe for custom creativity. Soul mates of the Iron include the Nightster, Night Train, Cross Bones, Fat Bob and Street Bob. Check out more on Dark Custom motorcycles at http://www.harley-davidson.com/darkcustom.
The Iron 883 is available in Black Denim and Brilliant Silver Denim colors.
Iron 883 features and highlights:
Rubber-mounted Evolution 883 cc V-Twin black powder-coated engine
Electronic Sequential Port Fuel Injection (ESPFI)
Black fuel tank with unique graphics
Black front forks with gaiters
Black belt guard and front fender supports
Black cast 13-spoke wheels, 19-inch front / 16-inch rear
Black low rise drag style handlebar
Black mid-mount foot controls
Black low profile front fender
Black chopped rear fender with combination rear stop/tail/turn lights
Chrome staggered shorty exhaust with dual mufflers
Side-mounted license plate holder
One-piece, solo Sportster classic seat
25.3-inch seat height
Optional Harley-Davidson Smart Security System
Classic 3.3-gallon fuel tank
Harley-Davidson Motor Company, the only major U.S.-based motorcycle manufacturer, produces heavyweight motorcycles and a complete line of motorcycle parts, accessories and general merchandise. For more information, visit Harley-Davidson's Web site at http://www.harley-davidson.com.
###