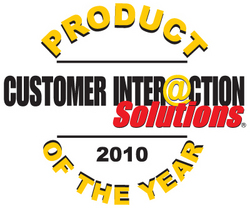 Noble Systems is Recognized for Outstanding Innovations in Contact Center Technology
Atlanta, GA (PRWEB) January 12, 2011
Noble Systems Corporation, a global leader in innovative contact center technology solutions, has received a "Product of the Year Award" from Technology Marketing Corporation's (TMC) Customer Inter@ction Solutions magazine for Noble Harmony. Designed to get managers and supervisors back on the call center floor, where they can manage more effectively, Noble Harmony gives them the ability to monitor real-time center activities with handheld mobile devices and inexpensive tablets, such as Apple's iPad and Augen's Android, via virtually any of the major internet browser applications. Customer Inter@ction Solutions has been the leading publication in the CRM, call center and teleservices industries since 1982.
Noble's Harmony application allows managers to access the Noble Maestro contact center management portal from the call center floor, or virtually anywhere, to view and manage real-time contact center activities. Supervisors can stay on top of who is doing what, see who needs assistance, view phone lines and status, monitor agent calls, etc. – without being tied to the manager station. Part of an ongoing development effort aimed at reducing dependence on office infrastructure and empowering remote and mobile management, Noble's mobile applications allow users to view campaigns and interact with agents from a variety of mobile devices, so that managers and supervisors can get out from behind their desks and back into the heart of the call center. View a video demo of the software in use on an Apple iPad.
"Noble Systems was granted a 2010 Product of the Year Award for its achievement in advancing contact center technologies. Noble Harmony demonstrates innovation and excellence, as well as provides ROI for the companies that use it," said Rich Tehrani, CEO, TMC. "For 13 years, Customer Interaction Solutions magazine has honored companies that show excellence in advancing technologies and application refinements." The 13th Annual Product of the Year Award winners will be featured in the January 2011 issue of Customer Interaction Solutions magazine.
Chris Hodges, Senior Vice President Sales & Marketing Noble Systems, says, "Most of today's contact center management tools can give managers and supervisors real-time data on what their agents are doing. The result is that they can become tied to their desks, monitoring activities via their workstations, rather than interacting with agents. Noble Harmony changes the game by putting managers back on the floor, giving them the tools and performance information to stay on top of campaigns and agents – while freeing them from the desks and putting them back into the middle of the action. We are excited to have this technology recognized by Customer Inter@ction Solutions and TMC."
About CIS and TMC
Since 1982, Customer Interaction Solutions (CIS) magazine has been the voice of the call/contact center, CRM and teleservices industries. CIS magazine has helped the industry germinate, grow, mature and prosper, and has served as the leading publication in helping these industries that have had such a positive impact on the world economy to continue to thrive. Technology Marketing Corporation (TMC) is a global, integrated media company helping clients build communities in print, in person, and online. TMC publishes Customer Interaction Solutions, INTERNET TELEPHONY, Unified Communications, NGN and InfoTECH Spotlight magazines. TMC is the producer of ITEXPO, the world's leading B2B communications event. TMCnet.com, which is read by two million unique visitors each month, is the leading source of news and articles for the communications and technology industries. In addition, TMC runs multiple industry events. For more information, contact Jan Pierret at 203.852.6800 x 228.
About Noble Systems®
Noble Systems Corporation is a global leader in contact center technology solutions, providing innovative products since 1989. Tens of thousands of agents at 4,000+ client installations worldwide conduct business using the award-winning Noble® platforms for inbound/outbound/blended communications. The scalable, integrated Noble solutions include advanced ACD and predictive dialing; unified contact processing for voice, email, and web; and integrated IVR, digital recording, messaging, quality control/monitoring systems, scripting, and real-time reporting and management tools. Based in Atlanta, GA, Noble was the first vendor to offer an open, scalable, fully-distributed platform. For more information, contact Lee Allum at 1.888.866.2538 x538 or visit noblesys.com.
###