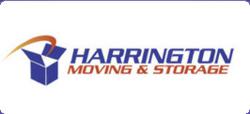 Maplewood, New Jersey (PRWEB) March 18, 2013
Harrington, a premiere moving and storage company based in New Jersey, has built an outstanding working relationship with Keller Williams Realty, a successful Texas-based real estate company. Indeed, it is only natural and fitting that a moving and storage company have such a positive bond with a real estate firm. Currently, Harrington is gearing up for an exciting event: Harrington, together with Stevens Worldwide Van Lines, is co-sponsoring the Keller Williams ONE Thing tour, which celebrates Gary Keller and Jay Papasan's new book called The One Thing.
Jeff Harrington, founder and CEO of Harrington Moving & Storage, comments that "Harrington is very excited to be part of this huge event. Our sponsoring this book tour really strengthens the bond between Harrington and Keller Williams, and we really look forward to working with them a lot in the future. Keller Williams does incredible work, and the book [The One Thing] that we're celebrating is truly inspirational." The One Thing, co authored by award-winning real estate professionals and motivational speakers Gary Keller and Jay Papasan, is a powerful book which helps readers filter out distractions and find the path towards joy and success in their daily lives.
This certainly is not the first time that Harrington will be teaming up with Keller Williams. Just last month, Harrington Moving & Storage delivered furniture to those struck by Hurricane Sandy in a charity event co-sponsored by Keller Williams called "Re-Furnish the Shore." Also, in the past, Harrington worked with the real estate giant on a number of other events, including the Keller WIlliams South Jersey blanket drive, and the Mega camp event in Austin Texas. Currently, as Stevens Van Lines' agent, Harrington offers Keller Williams and its clients special extra value offers. Now, Harrington is looking forward to a successful book tour. The ONE Thing tour is to take place on March 22, 2013 at the Empire Meadowlands by Clarion in Secaucus, New Jersey. All are invited to attend this special event and to meet the authors of The ONE Thing in person.
More About Harrington Moving & Storage
Harrington, headquartered in Maplewood, New Jersey, is an award-winning moving and storage firm that has, over the past seventeen years, built a reputation associated with credibility and professionalism. Harrington Moving & Storage provides outstanding moving and storing services to businesses and individuals alike. Harrington customers moving locally, nationally, or internationally enjoy a flawlessly orchestrated moving experience at a competitive price. Harrington Moving & Storage stands out above the competition in another way too: In its clear mission to serve those in need. In fact, charity organizations refer to Harrington as an 'irreplaceable assets to the community.' Harrington, the premiere moving company with a giving heart, has been awarded with several honors, including the New Jersey Driver of the Year Award (2006, 2010).