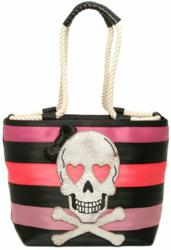 The Tough Love Tote is so fun! It's a great combo of tough and girly!
Albany, NY (PRWEB) March 06, 2013
Harveys Tough Love Scully Rope Tote is ideal for Harveys lovers. This tote features a cross and bones emblem, with the added detail of heart eye sockets. Harveys shows the softer side of love by combining black with the vibrant colors Razzleberry, Flamingo and Rose. This play on pinks is the ultimate girly touch. Customers of all ages agree, the Scully Rope Tote is edgy yet feminine; a perfect example of "Tough Love". Large enough for daily use, this sleek tote is also perfect for a fun night out with the girls.
Harveys Tough Love Make-Up Case is the must-have companion to the Tough Love Scully Rope Tote. Showcasing Flamingo and Rose, along with black, the Tough Love Make-Up Case is anything but ordinary. The case includes 2 distressed leather hearts, emphasizing the tough in "Tough Love". As an added bonus, the Tough Love Make-Up Case includes 3 internal slip pockets and an internal zip pocket. This internal storage can be used to separate bobby pins and tweezers from make up. With the Tough Love Make-Up Case, it's near impossible to be unorganized.
Kerry Lyn's Boutique is located in Aviation Mall found in Queensbury, NY. The store offers not only Harveys SeatbeltBags, but also Vera Bradley, Crabtree & Evelyn, Baggallini, Reno Rose, and Alex and Ani jewelry. Kerry Lyn's Boutique also offers jewelry from their sister company, 25 Silver Boutique located in Colonie Center and Crossgates Mall. Follow them on Facebook and Twitter for additional deals and promotions.