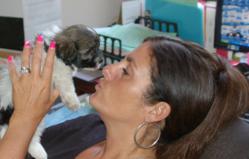 Part of our mission at Royal Flush Havanese is to give all we can back to the community.
Charlestown, RI (PRWEB) March 27, 2013
Royal Flush Havanese's owner Holly Mastroianni made a commitment to donate $5000 to the Leukemia and Lymphoma Society when their Facebook Page hit 5000 likes. This weekend Royal Flush Havanese's Facebook page hit a record 500 likes prompting an initial donation of $500 To The Leukemia And Lymphoma Society to kick off the campaign.
Royal Flush Havanese has demonstrated a continuous effort to give back to the community. They support the local youth basketball league, girl's softball team, have collected over 6000 canned goods for their local food bank and continue to support the Leukemia and Lymphoma Society in an effort to find a cure for these cancers.
A $100 discount is offered to every Havanese puppy buyer if they donate $25 to the Leukemia and Lymphoma Society. 100% of buyers contribute to the cause. A dollar is donated for every like of their Facebook page up to $5000 likes.
The cause is important to Mastroianni, as her grandmother had lymphoma and her husband fights the disease. She raised over $7000 for LLS when she ran a marathon in Alaska for the Leukemia and Lymphoma Society. In 2012 she was nominated as a candidate to be Woman Of The Year for 2013 but declined the nomination to focus on her husband and her Havanese family.
Royal Flush Havanese is not your typical puppy breeder. With complete dedication to the Havanese breed, a tremendous effort is also placed on unsurpassed customer service and giving back to the community in any way possible. Mastroianni is available 365 days a year to support puppy owners. Royal Flush Havanese boasts BBB reviews rating them A+ since they were accredited and as of the release of this article.