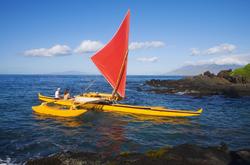 We can be flexible by doing multiple pick-ups and drop- offs so that everyone in the group can get in on the fun!
Wailea, Hawaii (PRWEB) June 3, 2008
Naturally, a tropical island like Maui has always offered a bevy of options for exploring its offshore wonders both above and below the surface. Splashing onto the scene more recently is Hina, a Hawaiian outrigger sailing canoe owned by Hawaiian Sailing Canoe Adventures (HSCA).
Launched in 2005 by Liz and Sage Spalding, a couple sharing deep aquatic ties and a passion for both paddling and sailing, HSCA operates the only eco-tour of its kind on the island. With a crew of two and a maximum of six passengers per excursion, the traditional-style ocean vessel takes off for two-hour treks from Polo Beach on Maui's sunny southern Wailea Coast.
Different from typical snorkel boats, HSCA's Hina offers a more personal atmosphere for visitors and residents alike to experience a Maui ocean activity in a fun, cultural and educational way. During these two-hour eco-tours departing at 8:00am and 10:00am daily, guests enjoy a bit of everything - sailing, snorkeling, paddling, seasonal whale watching, and learning Hawaiian history and culture all aboard a unique modern Hawaiian outrigger sailing canoe. Launching straight from the beach just as the Hawaiians did in ancient times, Hina plies along with a gentle breeze for a unique perspective of the island.
According to Sage Spalding, Hina was named after the goddess of the moon because she was built near the cave on Molokai where the goddess Hina was said to live. The Spaldings modified the traditional design for comfort by enlarging the canoe's trampoline and improving her sails. "We wanted to offer a safe, smooth ride while remaining very Hawaiian in a cultural, eco-friendly way," Spalding said.
The Spaldings head to their favorite snorkeling spots, where passengers dive in to spend quality time with sea turtles and colorful tropical fish weaving through brilliant coral reef. "We see all kinds of ocean life like turtles, dolphins and even humpback whales all while learning about this beautiful area," remarked Spalding. "And what makes the setting even better is that you can simultaneously see four of the Hawaiian Islands."
Those up for action are encouraged to become part of the crew and learn how to paddle a canoe Hawaiian-style. Or they can just relax and soak it on in while lazing on the comfortable mesh-webbed trampolines as the wind does all the work.
All along the way, the Spaldings highlight Hawaiian history and culture as they share information on ancient navigational techniques and Hawaiian canoe sailing. "It really ties everything together when you can learn about something then perform it hands on," Spalding added. "And on a sail like ours with so few people, we have an intimate setting where passengers can get involved at every level."
Rates for HSCA's Hina eco-tour are $99 for adults and $79 for children ages 5 - 12 (excluding tax). For groups exceeding 12, rates are $79 and $59 respectively. All journeys include cold juice, cold water, snorkel gear, instruction, narrated tour and digital photos that are e-mailed to each passenger. All rates are commissionable to travel agents at 30%.
Ideal for events exceeding six persons, an hourly corporate rate is $309.37 based on a minimum of two hours. "This is a great opportunity for incentive groups - or even family reunions," said Spalding. "We can be flexible by doing multiple pick-ups and drop- offs so that everyone in the group can get in on the fun!"
HSCA also offers customized charters for weddings, honeymoon cruises and other private functions. If a group or family exceeds six people, HSCA will arrange for a tour customized to fit their needs.
About Hawaiian Sailing Canoe Adventures
Hawaiian Sailing Canoe Adventure is owned and operated by Maui residents Sage and Liz Spalding. The traditional-style ocean vessel Hina operates two two-hour sails daily departing Polo Beach on Maui's beautiful Wailea Coast. A maximum of two crewmembers and six passengers assures that the eco-tours are more personal and flexible. For more information or reservations, call (808) 281-9301 or visit Hawaiian Sailing Canoe Adventures
Media Contact:
Liz Spalding
P.O. Box 791703, Paia, HI 96779
Phone: (808) 281-9301 / Fax: (808) 572-3098
Kilisa, Inc. • P.O. Box 791703 • Paia, HI 96779 • Phone: (808) 281-9301 • Hawaiian Sailing Canoe Adventures
###