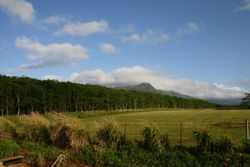 80 percent reduction of carbon dioxide emissions by 2050
Lawai, HI (Vocus) January 21, 2009
The new administration's environmental policy is a work in progress, but it is clear there will be major impact on businesses--including hotel companies--as the new term progresses. The incoming president's "New Energy for America" emissions campaign policy statement includes an "80 percent reduction of carbon dioxide emissions by 2050" and a "100 percent auction to ensure every ton of carbon is paid for." It is likely that hotel operators will be affected by these 'cap and trade' mandates proposed during the election campaign.
Cap and Trade
These policies would limit--set a cap on--an organization's carbon dioxide emissions, or carbon footprint. Companies that create more CO2 than the limits, will have to trade, or buy, carbon offset credits to compensate for their overage. Businesses that emit less than their allotted cap, including forestry enterprises and other green concerns whose products remove carbon dioxide from the air, would be allowed to sell or "trade" the excess carbon credits to carbon emitters. Europe has already imposed a cap and trade program under the Kyoto Protocol, the international climate treaty to reduce greenhouse gas emissions, and the result is a reputable, multi-billion dollar worldwide carbon offset credit market.
Legislation has been introduced in the U.S. to make cap and trade a reality here; most notably the proposed S. 2191, the Climate Security Act introduced in 2007 by Senators Joseph Lieberman (I-CT) and John Warner (R-VA). Australia, New Zealand and South Korea also are discussing cap and trade policies.
What does this mean for the hotel industry?
To put it frankly, the days of "greenwashing," of paying lip service to green initiatives, are over. Savvy hoteliers understand this, and are making significant investments to increase their commitment to environmental responsibility.

In California, Xanterra Parks and Resorts installed a solar photovoltaic (PV) energy system last year at its Death Valley operations, with a goal of reducing greenhouse gas emissions by 1.53 million pounds each year.
In Chicago, the Green Hotels Initiative is pushing area properties to obtain their Green Seal Certification, which requires certain levels of energy efficiency, water conservation, and waste management.
The New Yorker Hotel, one of the oldest Art Deco structures in New York City, recently replaced its heating and cooling system to reduce energy consumption by 30-40% and achieve an internationally recognized energy conservation standard.
At the Americas Lodging Investment Summit (ALIS) last January in Los Angeles, 3,000 people at had an opportunity to attend a green seminar track for the first time in the conference's 11-year history. At this year's ALIS, January 26-28 in San Diego, the subject of green hospitality will be the focal point of keynote addresses on opening day.
Smart strategy, smart money
Taking action to reduce carbon dioxide emissions before caps are set is smart business. Companies like Nike, Bosh, Allstate, Delta Airlines, Polaroid, and Dell all buy carbon offset credits from major brokers like the Chicago Climate Exchange, and now is the time to do so before the promised cap and trade policies push prices up. Making the investment now is about more than escaping higher prices. Being prepared for change counts in business. Hotels that established tech disciplines in revenue management and business intelligence fared better after 9/11 and are holding their own better than their comp set in today's economic climate.
Travelers reward green businesses. Witness the 2008 Deloitte study that found 34% of travelers seek hotels that are environmentally friendly and 28% said they would be willing to pay 10% more to stay in a green lodging facility.
Taking serious steps to go green demonstrates more than global responsibility. Under the new administration it will likely be an indicator of a more far sighted business strategy. Investing in carbon offset credits before the government requires it--particularly with U.S. companies whose approach is sustainable and whose credits are verifiable--is a more intelligent way for hotels to operate in the coming years.
About Hawaiian Mahogany, Inc.
Hawaiian Mahogany Inc. (HMI), founded in 1996 and based in Kauai, Hawaii, is an award-winning, pioneering tree farm and certified carbon offset credits provider. HMI manages over 3,200 acres of reclaimed sugar plantations on Kauai, propagates and maintains over one million tropical hardwood trees, and sequesters approximately 130,000 tons of carbon per year. The company developed an integrated cycle of sustainable processes to produce sustainable lumber, bio fuels, on site hydroelectric power, organic fertilizer, and cattle feed. HMI's processes and carbon sequestering metrics are certified by Winrock International and through the Voluntary Carbon Standard program. Its offset credits offer the highest value currently possible with total verifiability. A domestic company, Hawaiian Mahogany's processes are a compelling option for renewable energy sources within the American market.
Contact:
Bill Stepchew, Operations Manager
Hawaiian Mahogany Inc.
P.O. Box 649
Lawai, HI 96765
Email: BillStepchew(at)aol(dot)com
Phone: (808) 212-9490
http://www.hawaiianmahogany.com/?Campaign=PRWebCapandTradeJan212009
Media Contact:
Julie Keyser-Squires, APR
Softscribe Inc.
180 River Springs Drive NW
Atlanta, GA 30328
Phone: (404)256-5512
Email: Julie(at)softscribeinc(dot)com
http://www.softscribeinc.com
# # #