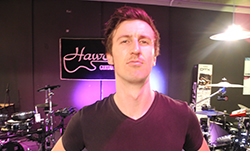 We are offering this guarantee as one extra way of creating peace-of-mind for our customers
Sydney, Australia (PRWEB) March 26, 2013
Haworth Music Centre has announced new guarantees and shipping pricing to further enhance its reputation as a premium retailer of musical instruments and accessories.
30 Day Money Back Guarantee
The new guarantees include a 30 Day Money-Back Guarantee on all items purchased through Haworth's online store.
"We are offering this guarantee as one extra way of creating peace-of-mind for our customers," said Haworth's Manager, Glenn Haworth. "It's not easy buying an instrument that you've not yet had the chance to play, regardless of whether it's a guitar, saxophone or keyboard, - we get this!"
So, if the purchased item is not what the Haworth customer expected, they are able to return it for full refund within 30 days of purchase, as long as it is returned undamaged in its original packaging.
Price Match Guarantee
"We are also out to ensure that we are not beaten on price," said Mr. Haworth. "So, we are now offering to beat any Australian advertised price, on an identical stocked item, by 5%."
This, Mr. Haworth believes, further establishes the business as the go-to retailer of musical instruments and accessories, including Behringer amplifiers, and Sennheiser microphones.
Australian and International Shipping
Coinciding with the announcement of the new Guarantees, Haworth has also announced what they describe as 'super competitive' shipping prices - in many cases free shipping throughout Australia. With international shipping capabilities, the Haworth team will happily provide a quote for shipping outside of Australia.
For more information about the new Haworth Music Centre guarantees and shipping offers visit haworthguitars.com.au/haworth-guarantee
About Haworth Music Centre
Luthier, Phil Haworth established Haworth Guitars in 1999, with a focus on building and repairing stringed instruments. In 2000 the transition from workshop to retail space was made, and in 2008 the two-level Haworth's Music Centre, with adjacent Warehouse, was opened in Albion Park Rail, just south of Sydney, Australia.
Phil has returned to his love of guitar-building and the business is now run by his son, Glenn, who in 2011 became General Manager. The Haworth team is comprised of young people who live their passion for music and musical instruments.
Haworth's ability to remain very competitive in an online world rests with its warehousing capabilities and strong online presence.
Visit the Haworth website at HaworthGuitars.com.au