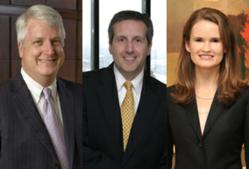 San Antonio, TX (PRWEB) November 29, 2011
A team of Haynes and Boone, LLP lawyers successfully represented Keystone-Texas Property Holding Corporation in an appeal arising out of a failed sale of the Marriott Rivercenter Hotel.
Keystone owned the land underlying the hotel, and HMC Hotel Properties II Limited Partnership leased the land from Keystone. HMC later sued Keystone for breach of the lease as Keystone was set to close an agreement to sell the land to a third party. After the sale fell through, Keystone filed counterclaims against HMC for slander of title and tortious interference with contract.
Keystone also asserted the same claims against HMC's parent corporation, Host Hotels & Resorts, Inc., formerly known as the Host Marriott Corporation and Host Hotels & Resorts, L.P.
Haynes and Boone's appellate team worked with trial counsel from Crouch & Ramey, L.L.P. to present Keystone's case during a four-week trial in early 2010. A jury rejected HMC's breach of contract claim, and instead found in favor of Keystone on both of its claims, and awarded Keystone both actual and punitive damages. The trial court entered an approximately $50 million judgment on the actual damages, but declined to enter judgment on the jury's $7.5 million punitive damage award. HMC/Host appealed the resulting judgment raising numerous issues, and Keystone filed a cross-appeal challenging the trial court's failure to include in its judgment punitive damages awarded by the jury.
Partners Alan Wright and Mark Trachtenberg in the Appellate Practice Group, along with Associate Polly Graham, persuaded the San Antonio Court of Appeals to affirm the approximately $50 million judgment in favor of the client. In addition, in a cross-appeal, the team prevailed in their efforts to obtain a reinstatement of the jury's $7.5 million punitive damages award. The case is No. 04– 10– 00620– CV.
About Haynes and Boone
Haynes and Boone, LLP is an international corporate law firm with offices in Texas, New York, California, Washington, D.C., Mexico City and Moscow, providing a full spectrum of legal services. With more than 525 attorneys, Haynes and Boone is ranked among the largest law firms in the nation by The National Law Journal. The firm has been named one of the "Best Corporate Law Firms in America" (Corporate Board Member Magazine, 2001-2011) and recognized as a "Top 20 Law Firm" for culture and for diversity with respect to both women and minorities (Vault, 2012). For more information, visit http://www.haynesboone.com.
CONTACT:
Allison Burum
Haynes and Boone, LLP
214.651.5467 (office)
214.392.5545 (cell)
allison(dot)burum(at)haynesboone(dot)com
# # #