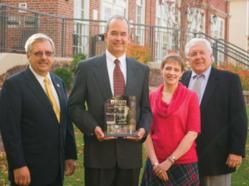 St. Louis, MO (PRWEB) December 13, 2011
HBD Construction, the award-winning St. Louis based general contracting company, won a major Keystone Award at the recent Associated General Contractors Construction Gala. The award was earned for excellence in the additions and renovations completed for the Kirkwood Public Library, specifically for the challenging structural elements discovered during the partial demolition of the more than 70 year-old building.
The 14th annual competition aims to celebrate construction excellence and recognize the work of great companies that enhance the quality of life in the St. Louis area.
"Leaving a legacy building is certainly our main goal when we begin this type of project," said Mike Perry, President of HBD "We feel that our very mission going back 90 years is to meet the challenge and accept responsibility for driving a project to completion on-time and on-budget. In the case of this beautiful Kirkwood Library, it may be refreshing these days to hear that the project was completed below budget."
Library Director, Sarah Erwin stated, "through the hard work and dedication of HBD and Bond Wolfe, (the architect on the project) the Kirkwood Public Library will continue to be a community treasure."
Kirkwood Mayor Arthur J. McDonnell added, "The true measure of its success is that library circulation has gone up, the gift shop inside is thriving, and the community meeting rooms are being well used. Everyone loves the inviting new space."
HBD Construction, the veteran St. Louis-based company turns 90 years young in 2012. The company continues to be known as an innovator and is among St. Louis' top construction firms at nearly 100 million in revenue. Perry states, "while we've always prided ourselves in our ability to build or renovate just about anything, we've become known in several key areas like senior living facilities, blast-resistant buildings, grocery stores and now; classic libraries that are ready to turn the page to the next chapter in their history."
Click here to learn more about the HBD Construction leadership team.
About HBD Construction, Inc.
HBD Construction, Inc., http://www.hbdgc.com, is a diverse, full-service general contracting and construction management firm headquartered in St. Louis since 1922. With over $90 million in annual revenues, HBD has strong experience in retail and office buildings, medical facilities, historic renovations, senior living spaces, entertainment venues and industrial projects. HBD is celebrating 90 years of superior service and history in St. Louis in 2012.
For more information visit http://www.hbdgc.com, contact William Kay at Black Twig Communications, 314-536-8919; or Mike Perry, President, H.B.D. Construction, 314-781-8000.
###