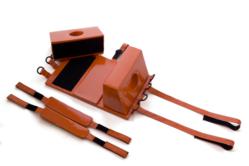 A great head immobilizer
Huntinton Beach, CA (PRWEB) March 05, 2013
Lifeguard Master improves on its head immobilizer to fit all spine boards. This is vital in an emergency situation because the immobilizer being able to go in any spine board saves time and helps get the job done the right way. Having everything speedy and professional helps to save lives.
This improved head immobilizer is universal. Meaning the immobilizer can fit and strap on to any spine board.
Why is this so important? What's the big deal? One reason why this is so important is in an emergency situation the first responder will want to move professionally and fast. So the head immobilizer being able to fit in any board comfortably and fast gives the emergency provider vital time to help save that precious life. In a life saving situation, the rescuer doesn't want to go looking for parts that fit or worry about assembly. The emergency care provider wants everything to move fast. Ideally, the head immobilizer will already be strapped on to the board and ready to go at all times. For more information on this, please click here.
This is very important, as well as very practical. This head immobilizer fits and assembles with any spine board. As spine boards may change or replaced from time to time, this immobilizer will fit in any spinal backboard. Whatever the case may be, the head immobilizer may change locations. Or new spine boards may be replaced periodically. What ever the case, when spineboards come and go, this immobilizer will fit in any spinal board.
This head immobilizer is also durable and withstands the elements. The immobilizer withstands the elements of wind, rain, chlorine water, and ocean water. Why is this important? The head immobilizer along with the backboard can be left outside for long periods of time. They may be left next to chlorine water and salt water. This head immobilizer is strong and is able to withstand these elements. This head immobilizer will last year after year. It's a very good idea to have a quality spineboard head immobilizer from a reputable company that provides this feature.
Why is having a durable head immobilizer do important? Well, the emergency care givers want to be able to put the immobilizer and board in a spot that is very easy to access without fear of the parts rotting away. Having a head immobilizer and spine board close by is vital in any emergency situation and can save precious time, thus increasing the chance of the victim's survival. Professionalism and speed equals increase chance of survival. For more information on this, please click on: http://www.lifeguardmaster.com/products/headimmobilizerforlifeguardbackboards
One other quality that this head immobilizer has is its buoyancy. A first responder wants the head immobilizer to float in case it somehow drifts away in an emergency situation. This immobilizer has a foam material inside which allows it to float. Again, having the immobilizer close by in any situation is vital and can safe precious time, increasing the survival rate of the victim.
This head immobilizer also holds the stability of the head firmly. Of course this is the whole point and purpose of head immobilizer. The over all purpose is to ensure that the victim's head is not moved during transport. This is vital in a life saving situation and a must for any immobilizer. As this is the whole point, to have the victims head secure and stable to prevent further injury. This immobilizer has cushions on either side of the victim's check are very stable. These cushions are locked into place, immobilizing the victim's head. This is accompanied by one chin strap and one head strap. These parts give added support and immobilization to the victim's head. For more information on this, please go to: LifeguardMaster.com/products/HeadimmobilizerForLifeguardBackboards
When transporting a victim from the scene of the accident to the hospital, immobilization is important to prevent further injury. The head, neck and spine is one of the most, if not the most delicate areas of the body. Even seemingly minor injuries to those areas could mean the different between life and death. After a head, neck or spinal accident, the victim is usually more susceptible and fragile to further injury in those areas. Upon entering the scene, one major component of a first responder is to keep the victim from getting further injury. One ideal way to do this is to keep the victim stable and to prepare the victim for transport. A head immobilizer, spineboard and straps combo is a good way to secure the victim.
Lifeguard Master has been providing effective and safe emergency supplies and equipment for years. We are one of the leaders in the industry for emergency and life saving gear. For more information regarding head immobilizers, please visit their website, send them an e-mail, or give them a call. Thank you.
Sammy
Lifeguard Master
(714) 605-3090
http://www.LifeguardMaster.com