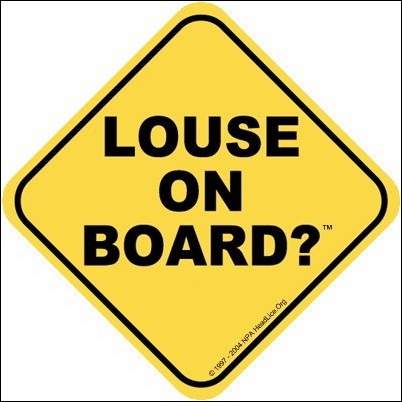 Needham Heights, MA (PRWEB) September 1, 2006
In every newspaper or on news alerts sent over the computer, what is the constant theme?
The importance of protecting the environment for the future of our children and the risks of global warming is a major focus. Yet millions of children's personal environments are at risk when they are infested with blood-sucking lice. If this isn't bad enough, health risks increase when children are shampooed with pesticides. This makes head lice a serious health and hygiene issue.
Unfortunately, this isn't a new story. Each year, the National Pediculosis Association (NPA) reaches out at back-to-school time to kick off its campaign to encourage the safest possible treatment methods for pediculosis. Kids know every month is head lice prevention month, but September is the month designated to kick off the prevention effort to last the whole year long. The NPA launched its first back-to-school campaign in 1985.
The campaign is designed to minimize a crisis mentality about this public health problem by informing each new generation of parents before head lice outbreaks occur. Parents need to be warned in advance about pesticide shampoos they too often perceive as safe and effective simply because they are available on the drug store's shelves.
The Environmental Protection Agency (EPA) recently banned the pesticide Lindane as a risk to our food, air and water.
http://www.headlice.org/lindane/new/080106_end_use_lindane.html
However the U.S. Food and Drug Administration (FDA) continues to approve this pesticide in prescription lice treatments for people although it carries the FDA's most stringent "black box" warning. Malathion, another pesticide prescription has been successfully marketed directly to pediatricians for their patients. Who should have their heads examined now?
Unfortunately too many physicians prescribe these pesticides and do so under the worst case scenario – recommending it for children who are at greater risk of ill-effects because they have recently been treated with over-the-counter pesticides that have failed. One chemical exposure should never be followed by another – especially when a manual approach is a realistic, cost-effective and safe alternative. With or without lice resistance to treatment issues, none of the products are 100% effective which is why thorough lice and nit removal remains the critical factor in ending infestations.
The NPA prevention campaign recommends a proactive approach with routine screening, accurate identification, early detection and manual removal. Families need to be prepared with accurate information and necessary control methods prior to outbreaks and personal infestations.
http://www.headlice.org/downloads/nonitpolicy.htm
How common is the problem?
It is nearly impossible to find a community where children do not have head lice. Millions of dollars are spent annually for pesticide treatments even though there is reliable scientific evidence that lice are resistant to them. As a result, the head louse remains well-established among the childhood population. Continued reliance on the pesticides keeps the cycle of infestation going.
What's a family to do?
Early detection and removal of head lice and their eggs (nits) is the best prevention. Head lice is a hygiene issue that needs to be integrated into regular grooming behaviors such as brushing one's teeth. Parents should check their children for lice or nits several times a week – a prevention measure best accomplished with a comb designed for this purpose. The NPA offers video instruction and recommends the LiceMeister™ comb. After bath time is the perfect opportunity to screen. http://www.headlice.org/video/index.htm
School and health officials can participate in the "All Out Comb Out" by using this proactive approach to assure that children are in the classroom lice and nit free, ready to learn. Being prepared is the safest and best way to avoid pesticides and head lice too.
Visit http://www.headlice.org for educational resources:
1. Free downloads for printing.
http://www.headlice.org/downloads/index.htm
2. Free Critter Card offer to show you what to look for.
http://www.headlice.org/special/critcard.htm
3. Answers to frequently asked questions.
http://www.headlice.org/faq/index.htm
4. Information on where to find the LiceMeister Comb.
http://www.headlice.org/licemeister/index.htm
5. A special learning section for kids and a whole lot more!
http://www.headlice.org/kids/index.htm
###