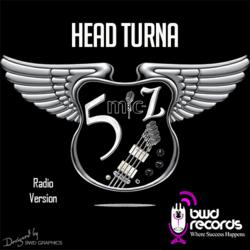 I am not a singer, nor am I a rapper. I am not a producer, nor am I a writer. If it is too confusing, I will end the confusion. I am
5 M.I.C-Z and my D.N.A
is music.
Tampa, Florida (PRWEB) March 14, 2013
Multi-Talented Artist 5 M.I.C-Z has released the official "Head Turna" music video. The project, presented by BWD Records is now available for viewing on YouTube. The video was a vision brought to life by Andres Yepes; Film Producer, Director and Editor at Star Video Productions. The concept of the video is to show the immediate attraction between a man and a woman, what it's like to fall in and out of love, and the consequences.
5 M.I.C-Z hails from Lakeland, Florida. He discovered his talent while in middle school and found that, despite excelling in sports and physical activities, his musical side was beginning to become more the focus of his attentions. With his ethos of "Staying true to who you are" being his sole direction, he left sports to focus on what would ultimately become his life-long career.
A decades worth of experience and knowledge has helped define 5 M.I.C-Z into becoming the 'force de measure' that culminated in his signing with BWD - 'The Independent Music Label of the South' - Records in October 2012; and with it comes his latest scene stealing release, the intoxicating single, Head Turna.
Head Turna is a beguiling rhythm and hypnotic tone that turns the lights down to romance and hearts up to passion, the vocals liquid intimacy that coax you through the track. As smooth as the silk shirt strewn across the floor and delivered with a sensual lust, Head Turna is a song to turn dance floors into decadence, bed-rooms into bliss and the night into a world of indulgent promise.
Head Turna is available on iTunes, Amazon, Spotify, Google Play and all major digital outlets worldwide. The iTunes 'Ringtones' Store has 'Head Turna' available.
5 M.I.C-Z upcoming, self-titled debut album "5 M.I.C-Z" is expected to be released in the Summer of 2013. Keep up with all of 5 M.I.C-Z updates by following him on Twitter and Facebook or visit his official website at http://www.5micz.com.