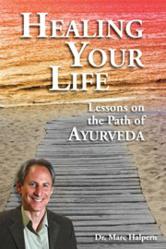 "Both easily accessible and deeply empowering, Dr. Marc Halpern walks by your side as you walk the Ayurvedic path of healing."
- Dr. David Frawley, Author and Ayurvedic Scholar
Nevada City, CA (PRWEB) December 06, 2011
Through 15 practical lessons in the new book "Healing Your Life," Dr. Marc Halpern, President of the California College of Ayurveda, shows how even small changes in what people eat, see, hear, smell, and touch, can profoundly improve health and happiness.
In "Healing Your Life," Dr. Halpern shares the knowledge learned from working with thousands of students and patients, plus inspiring reflections from his own healing journey.
A fight against debilitating disease led Dr. Marc Halpern to reject his "work hard, play hard" lifestyle in the 1980's, pursue natural healing, and establish the first school of clinical ayurvedic medicine in the United States in 1995.
"No two people are the same, so there is no single diet or lifestyle that works for everyone. This book, and my life's work, is to help people achieve their own highest potential, happiness and health," said Dr. Halpern.
Healing Your Life is sprinkled with insights such as:

How and where we eat is more important than what we eat
Music is medicine, and some thrive on rap, others on reggae or classical
We shouldn't work past 7 pm, or check e-mail or cell phones
A closet full of black clothes might be bringing us down
The 15 Lessons include insights into the cause of disease, developing patience, and the roles of diet, music, color, touch, aroma, imbalances and daily rhythm in our lives.
Dr. Halpern also reflects on his life as the child of divorced Jewish parents, his early professional life as a doctor of chiropractic, and the mysterious auto-immune disorder that left him bedridden at age 25, and his subsequent seven year struggle with Chronic Fatigue Syndrome. His inspiring path to personal health and happiness is a success story in ayurvedic living and medicine.
About the Author
Dr. Marc Halpern is Founder and President of the California College of Ayurveda and co-founder of the National Ayurvedic Medical Association and the California Association of Ayurvedic medicine. Dr. Halpern has been instrumental in bringing ayurvedic medicine to the West. An advisor to ayurvedic journals in India and the United States and a recipient of the Best Ayurvedic Physician award, Dr. Halpern is one of the few Westerners recognized as an expert in ayurveda internationally.
Healing Your Life, Lessons on the Path of Ayurveda, by Dr. Marc Halpern
Paperback Price: $12.95, 192 pages, ISBN: 978-0-9102-6198-2
Amazon Kindle Price: $9.95, ASIN: B0065R4OQ8
Published November 10, 2011 by Lotus Books
Supplementary information included
To arrange an interview, or to request a complimentary paperback or e-book review copy, contact Lisa LaMagna of Lisa LaMagna Public Relations by phone at (510) 495-0610 or by email at lisa(at)lisalamagna(dot)com.
# # #