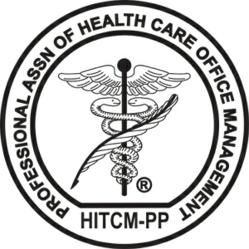 Certification makes a difference not only on the clinical side of the practice, but also the clerical side. Health Information Technology is too critical to be overlooked.
Lady Lake, Florida (PRWEB) September 12, 2012
Professional Association of Health Care Office Management (PAHCOM) today announced the launch of a health information technology (HIT) certification program for practice managers. The Health Information Technology Certified Manager for Physician Practice (HITCM-PP) will welcome its first testing group on October 15 at 9:00 am in conjunction with The 24th Annual PAHCOM Conference in Clearwater Beach, Florida.
In today's increasingly technological landscape, HIT permeates almost all aspects of healthcare delivery. Due to federal regulations, new payment models, and a tightening economy, medical practices are required to go through a variety of HIT transitions. The HITCM-PP credential was created for practice managers responsible for leading their practices through HIT implementation and utilization so they can more effectively improve patient outcomes, practice efficiency, and revenues. The HITCM-PP program emphasizes HIT-related workflow process optimization, HIT security and privacy, and federal and state HIT-related regulations and policies.
According to PAHCOM Director Karen Blancette, "Certification makes a difference not only on the clinical side of the practice, but also the clerical side. Health Information Technology is too critical to be overlooked."
Designed for practice managers in solo and small group physician practice settings—the same practices that the Office of the National Coordinator is prioritizing—the HITCM-PP program is designed to ensure the competency of practice managers for current and future HIT operations.
The examination evaluates the candidates' knowledge of nine critical HIT components of the small practice. From understanding Electronic Health Records and Meaningful Use to ICD-10, the PAHCOM HITCM-PP certification demonstrates the practice manager's competence to excel in the management of HIT for physician practices.
David Willis, MD, and Kendra Siler-Marsiglio, PhD, of CommunityHealth IT, led development of the HITCM-PP Program. CommunityHealth IT is a nationally-recognized 43-organization coordinating body for regional disease management and HIT projects from systematically expanding broadband—assuring providers have the appropriate foundational technology, to facilitating electronic health record implementation, and exchanging electronic health information through a 21-county rurally-driven health Information Exchange.
More details and registration information are available at http://www.pahcom.com/hitcm-pp/overview.html
About PAHCOM
Founded in 1988, PAHCOM is a national organization dedicated to promoting professionalism in physician office practice management by providing professional development opportunities including continuing education, networking, online tools and resources, and nationally recognized certification (CMM) for health care office managers.
PAHCOM supports more than 3000 solo physician and small group physician practices across the United States through successfully executed communication of best practices, industry standards, educational opportunities, ease of collaboration among practice managers, and distribution of information from fellow leaders in the industry including federal partners, quality corporate solutions providers, and associations/societies. It is through these partnerships that PAHCOM is able to provide medical practices with the tools needed to increase efficiencies, compliance, profitability, and ultimately, improve patient care in their communities. For more information, go to http://www.pahcom.com or call 800-451-9311.