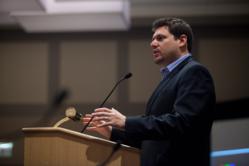 Michael D. Shaw, columnist for Health News Digest, praises Mr. Hilgers for his championing of private exchanges.
Birmingham, Alabama (PRWEB) March 14, 2013
Health Partners America (http://www.healthpartnersamerica.com), a broker support organization that creates software and training for insurance brokers and advisors, announces its featured profiles on HealthCare Consumerism Radio, Entrepreneur Podcast Network and Health News Digest. These three interviews address, respectively, a variety of topics, including: the flexible and affordable nature of private health insurance exchanges, along with insight and analysis from Josh Hilgers, President of Health Partners America. The stories also highlight the value of private exchanges as a proven – and tax-free – solution to competing governmental plans and other options. As Mr. Hilgers explains, private exchanges provide business owners with an opportunity to save money, increase benefits, enhance quality and boost employee morale.
"I want to thank these outlets for inviting me on their broadcasts, or profiling the work of Health Partners America, since we seek to educate the public about the many benefits of private exchanges in general and the personalized service and customized work of our firm. Recent decisions by several states, along with rulings by the U.S. Supreme Court, make these exchanges together with a defined contribution plan a compelling alternative to the status quo. In fact, these exchanges offer excellent health care at a reasonable price, transforming the way companies operate and workers enjoy their benefits," says Mr. Hilgers.
The average family premium for employer coverage in the U.S. has increased 113% in the last decade, states the Kaiser Family Foundation. A recent J.D Power and Associates Member Health Plan Study also finds that nearly half (47%) of employers say they "definitely will" or "probably will" switch to a defined contribution model within a private exchange, allowing employees to select the coverage that best fits their needs while also potentially saving the employer costs.
Convenience and Cost Savings: The Power of Private Exchanges
Michael D. Shaw, columnist for Health News Digest, praises Mr. Hilgers for his championing of private exchanges, stating: "One company doing a fine job in helping employers and brokers alike to enter this new world of health insurance products is Birmingham, AL based Health Partners America. HPA's website provides plenty of resources, including content by founder and president Josh Hilgers. Don't miss the videos directed to employers and employees."
About Health Partners America
Founded in 2007, Health Partners America provides insurance brokers with the tools, training and technology to help businesses deliver quality health coverage using affordable solutions. The company offers the industry's first broker-friendly private health insurance exchange, defined contribution plan training, insurance training and workshops. Company representatives share their thought leadership at various business industry events. Learn more at http://www.healthpartnersamerica.com or call (205) 417-4336.
Media: For more background to this story or to schedule an interview with Josh Hilgers, please call Lewis Fein at 310-746-7771 or email media(at)healthpartnersamerica(dot)com