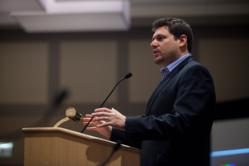 For companies, these increases are further proof of the need to adopt health insurance exchanges and save money.
BIRMINGHAM, ALABAMA (PRWEB) March 29, 2013
Health Partners America (http://www.healthpartnersamerica.com), an innovative source for solutions involving America's health care crisis, announces the independent validation of its predictions involving the Patient Protection and Affordable Care Act. According to the Society of Actuaries, insurers will have to pay out an average of 32 percent more for claims on individual health policies under the Act, a cost likely to be passed on to consumers. By 2017, the estimated increase would be 62 percent for California, about 80 percent in Ohio and Wisconsin, more than 20 percent for Florida and 67 percent for Maryland. The report also predicts the law will reduce the number of Americans without health insurance from 16.6 percent to as low as 6.6 percent after three years.
According to Josh Hilgers, President of Health Partners America: "These forecasts confirm our own internal findings, made many months earlier. The impact of this legislation will continue to have national implications, affecting employer sponsored or "small group" insurance in a similar fashion. For companies, these increases are further proof of the need to adopt health insurance exchanges and save money. Our expertise is critical in this area of economics, public policy and business."
"Josh's predictions about the Act are very prescient, supported by independent research from a variety of non-partisan institutions. He has the insight necessary to work with executives and brokers to find a much better resolution to the nation's health insurance crisis through private exchanges," says Eric Johnson, Director of Education for Health Partners America.
About Health Partners America
Founded in 2007, Health Partners America provides insurance brokers with the tools, training and technology to help businesses deliver quality health coverage using affordable solutions. The company offers the industry's first broker-friendly private health insurance exchange, defined contribution plan training, insurance training and workshops. Company representatives share their thought leadership at various business industry events.
###
If you'd like more information about this topic, or schedule an interview with Josh Hilgers, please call Lewis Fein at 310-746-7771 or write media(at)healthpartnersamerica(dot)com.