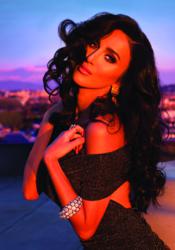 I want to be a billionaire, with a B - Lilly Ghalichi
San Diego, CA (PRWEB) March 29, 2013
Lilly Ghalichi, the newest star of Bravo's hit reality television series, Shahs of Sunset, spends time in an exclusive interview in the summer 2013 issue of Health Beauty Life Magazine (HBL).
Taking place in the star's "posh perch" above the sunset strip in Los Angeles, California, Health Beauty Life publisher, Patrick Dockry (Patrick Dockry Health Beauty Life) sat down with the Persian Princess to chat about her fast expanding world of business, fashion and beauty.
Patrick Dockry and the HBL team capture the many shades of the hard working siren as she shares exclusive details in a stunning photo shoot that matches the star's high wattage sparkle and charm.
The young entrepreneur makes it all sound easy, as she casually shares how she graduated from Loyola law school cum laude and passed the bar exam only to take a different career path that includes fashion design and production, glamour product development and, a recent white-hot turn as a fan favorite on Bravo's Shahs of Sunset.
Having partnered with best gal pal Jennifer Stano to form the swimwear line, "Have Faith Swimgerie", she shares how they grew the business to success through their love of fashion and beauty, razor sharp design esthetics and old fashioned hard work. Not satisfied with her current successes, the next phase in the "Ghalichi Glam" array of products is the launch of her dramatic eyelashes line, fittingly titled, Lilly Lashes.
Health Beauty Life intimately captures Lilly's inspirational lifestyle and fierce determination, and can be experienced in print and online at HealthBeautyLife.com. The print article can also be accessed by smart phones and tablets through the QR code that accompanies the article.
Be sure to look for the magazine in the waiting room of your medical professional and at your favorite beauty salon. The fabulous summer issue is set for distribution April, 2013 with exclusive photos and a behind the scenes glimpse that captures the super glam life and fierce determination of the up and coming superstar.
Health Beauty Life Magazine is a national publication of exclusive celebrity interviews, popular destination travel, cooking, health & fitness, beauty & fashion and lifestyle elements. All interview segments and articles can be enjoyed as video articles (many in longer, uncut versions) at HealthBeautyLife.com.
About Patrick Dockry
Patrick Dockry is the Publisher, Executive Producer and Host of Health Beauty Life. Patrick oversees the growing world of Health Beauty Life, including national print: Health Beauty Life magazine, online: HealthBeautyLife.com and his national television show: Patrick Dockry's Health Beauty Life.
About Health Beauty Life
Established in 2010, Health Beauty Life Media collectively celebrates lives well-lived and admirable lifestyles in a unique 360 degree media that merges interactive QR coded print (Health Beauty Life magazine) online, (Health Beauty Life.com) and nationally syndicated television ("Patrick Dockry Health Beauty Life".)
Until next time,
Just remember to enjoy.