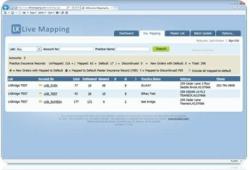 "We highly recommend LKLiveMapping to all of our clients. This product will help laboratories finally turn the corner in our mission to significantly reduce receivables." Cory Fishkin, President, CareEvolve
Teaneck, NJ (PRWEB) February 12, 2013
With growing connectivity and demand for electronic orders and results, laboratories rely on physician's EMRs to retrieve clean electronic orders for accurate patient and insurance information. Laboratories are responsible for verifying that the information they receive is accurate for rapid reimbursement by the insurance companies. They identify the correct insurance code in their billing system and then cross-reference it with the insurance code in the order. With several hundreds of PMS and EMR vendors in the country, it has become a major challenge for laboratories to manage insurance information and ensure its accuracy.
ELLKAY's new solution makes it simple for laboratories to manage the mapping process for insurances, test compendiums and physician NPI numbers. This web-based utility significantly increases productivity and claims collection by helping the laboratories receive approval of more first-time claim submissions, giving control back to laboratories.
LKLiveMapping keeps information centralized, accurate, and easily accessible. With secure web services, any practice's interface engine, laboratory's interface engine or other internal applications enables direct calls to the Live Mapping cloud server and query for mapping codes.
One of the most powerful features of LKLiveMapping is a web-based dashboard, which provides an overview of insurance-mapping across all physician offices. Users are able to view new records and discontinued records, and see which of these records have been already mapped and by whom. Multiple personnel are also able to manage master listings on one server, which eliminates the need to manage excel files at many locations.
Laboratories can save time and hassle through LKLiveMapping's advanced features by updating the mapping code across a batch of selected insurances in a matter of seconds, automatically routing new orders. The comprehensive Audit-Trail feature captures date and time an insurance record is created, the individual who maps it, any changes in the mapping, and when the record is published to the physician office.
LKLiveMapping is changing the way laboratories work. ELLKAY has developed the Live Mapping offering to be a unique combination of software tools, unparalleled industry systems integration knowledge, and a team of mapping analysts working to ensure maximum accuracy and effectiveness of insurance mapping for ELLKAY's laboratory clients. This empowering combination of software and services improves laboratory operating efficiency, delivers a high first-submission approval of claims, and increases collection.
To learn more about LKLiveMapping, feel free to contact ELLKAY today.