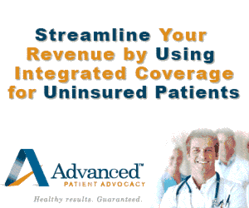 The need for continuing education, as well as exposure to new and better solutions continues.
Richmond, VA (PRWEB) March 18, 2013
Advanced Patient Advocacy, LLC (APA) announced today that they received a substantial amount of interest from hospitals around the country at their booth at the National Healthcare Financial Management Association's (HFMA) Virtual Conference on Febuary 6, 2013. The Virtual Conference was attended by HFMA members from around the United States, and featured education sessions and sponsor booths.
APA's booth received over 200 visitors, exceeding expectations. The booth included an introduction by President, Wendy Bennett as well as White Papers, Case Studies and overview of services.
APA's Chief Marketing Officer, Rodney Napier said, "We are excited about the format of this conference. We recognize that cuts in travel budgets, for many hospitals, makes attending conferences difficult. But the need for continuing education, as well as exposure to new and better solutions continues. HFMA's Virtual Conference provided an opportunity for hospital leaders to gain insight into our organization in a new way. We look forward to many more successful virtual events."
APA would like to thank Interchanges, a digital marketing agency, for partnering with them to make this virtual conference a huge success. APA's primary objective was to build a micro-site that effectively communicated the business approach and value their organization brings to its client partners. Interchanges worked with APA to fashion information in a format that achieved that objective.
Advanced Patient Advocacy, LLC is a privately owned company that provides a comprehensive suite of enrollment services to healthcare organizations to assist patients in navigating and connecting to payer solutions which include Medicaid, Workers Compensation, Motor Vehicle, Disability and General Liability. APA services healthcare organizations on a nationwide basis and has built its reputation by revolutionizing the way screening and enrollment services are provided.
For more information:
Call 877.272.6001, visit http://www.aparesults.com or email Rodney Napier at: rnapier(at)aparesults(dot)com