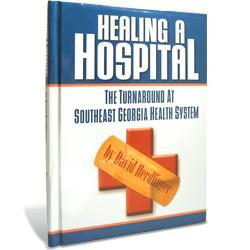 The dramatic turnaround at Southeast Georgia Health System was no accident. The new CEO and his healthcare leadership team applied sound management principles that have general applicability to all businesses. This book is a must read for healthcare professionals, business executives and civic leaders in communities with hospitals
Saint Simons Island, GA (PRWEB) November 5, 2007
In his exciting and informative new book Healing A Hospital, business coach David Herdlinger describes the strategies behind the amazing $24 million turnaround at the Southeast Georgia Health System. In only three years, this 356-bed health system progressed from the critical list to become the best large hospital in the state of Georgia.
In 2001, the Southeast Georgia Health System was losing money at the rate of $13 million per year. Only 12 months later, under new management, it was earning annual profits of $11 million. Healing A Hospital chronicles the hospital's astounding journey from life-threatening illness to complete recovery.
The sound management philosophies and practical tools presented in Healing A Hospital are useful to business executives in all industries as they seek to improve the profitability of any company. Healthcare leadership will want to read this timely book to learn valuable strategies they can apply to their own unique situations.
"The dramatic turnaround at Southeast Georgia Health System was no accident. The new CEO and his healthcare leadership team applied sound management principles that have general applicability to all businesses. This book is a must read for healthcare professionals, business executives and civic leaders in communities with hospitals," Herdlinger says.
About David Herdlinger
Herdlinger's firm, Herdlinger Associates, provides executive coaching services and corporate coaching services to individuals and organizations in North America, Europe, and Asia. Through the powerful dynamics of coaching, he has helped thousands of executives and professionals at all levels unleash their potential and achieve more than they ever dreamed possible. The Southeast Georgia Health System is one of his clients.
David is also the author of 10.5 Reasons Why Even Top-Notch Executives Fail, http://www.tenpointfive.com , and How to Make Sure It Doesn't Happen to You. Healing A Hospital (Wool Street Publishing, 2007) is available in a 124-page hardcover edition for $20 per copy. Quantity discounts are available. It can be ordered online at http://www.healingahospital.com.
# # #