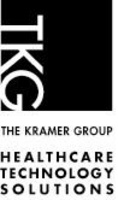 Extending the Healing Ministry of Christ.
ORLANDO, Fla. (PRWEB) June 25, 2008
"Unlike competitors, RQi is the only web-based service that offers a combination of real-time and batch information processing," said Tim Reiner, Senior Revenue Officer for AHS. "Additionally, we feel the user interface is intuitive, simple, and something our end users can become adept with rapidly."
AHS also required a company with the experience to service a multi-hospital system. "The others did not have the framework in place to handle our 33 installations," said Reiner.
"By bringing correction to the front end of the revenue cycle, AHS can eliminate manual editing and the 'rework' usually required for claims to be submitted properly for reimbursement," said Chuck Kramer, president and CEO of TKG Healthcare Technologies. "AHS also gains an excellent training tool to improve accountability and empower staff."
RQi is a healthcare registration solution that detects and flags registration errors for correction upon admission and prior to discharge and billing. The software is based on Six Sigma process improvement methods and operates with a patent-pending rules engine and customized set of business rules. RQi provides 100 percent data accuracy, improved employee accountability, instinctive workflow, and immediate feedback to the user. Each system is customized on site to ensure maximum performance and customer satisfaction.
"Florida Hospital is extremely excited about RQi's real-time 100 percent registration error detection solution. We firmly believe this partnership with TKG will bring tremendous value to our organization and especially our front-end users," said Jeff Hurst, Vice President of Revenue Management.
About TKG Healthcare Technologies
TKG Healthcare Technologies is a revenue cycle services company specializing in web-based healthcare software solutions and dedicated client support and training. TKG's experts provide tools that improve existing operations, increase employee proficiency, and enhance revenue cycle performance on a cost-effective basis with a significant return on investment across the entire revenue cycle. Visit http://www.kramergroup.com.
About Adventist Health System
Serving nearly four million patients annually, Adventist Health System is a faith-based organization: "Extending the Healing Ministry of Christ." Adventist Health System's flagship, Florida Hospital, is one of the largest healthcare providers in America and a national leader in cardiac care. Visit http://www.AdventistHealthSystem.com.
Florida Hospital
Opened in 1908, Florida Hospital is one of the largest not-for-profit hospitals in the country, caring for more than a million patient visits per year - that's more than any other hospital in the country, according to the American Hospital Association. The more than 2,000-bed system, comprised of eight hospitals and 16 Centra Care locations, has been recognized by U.S. News & World Report as one of the best hospitals in the country for the past nine years.